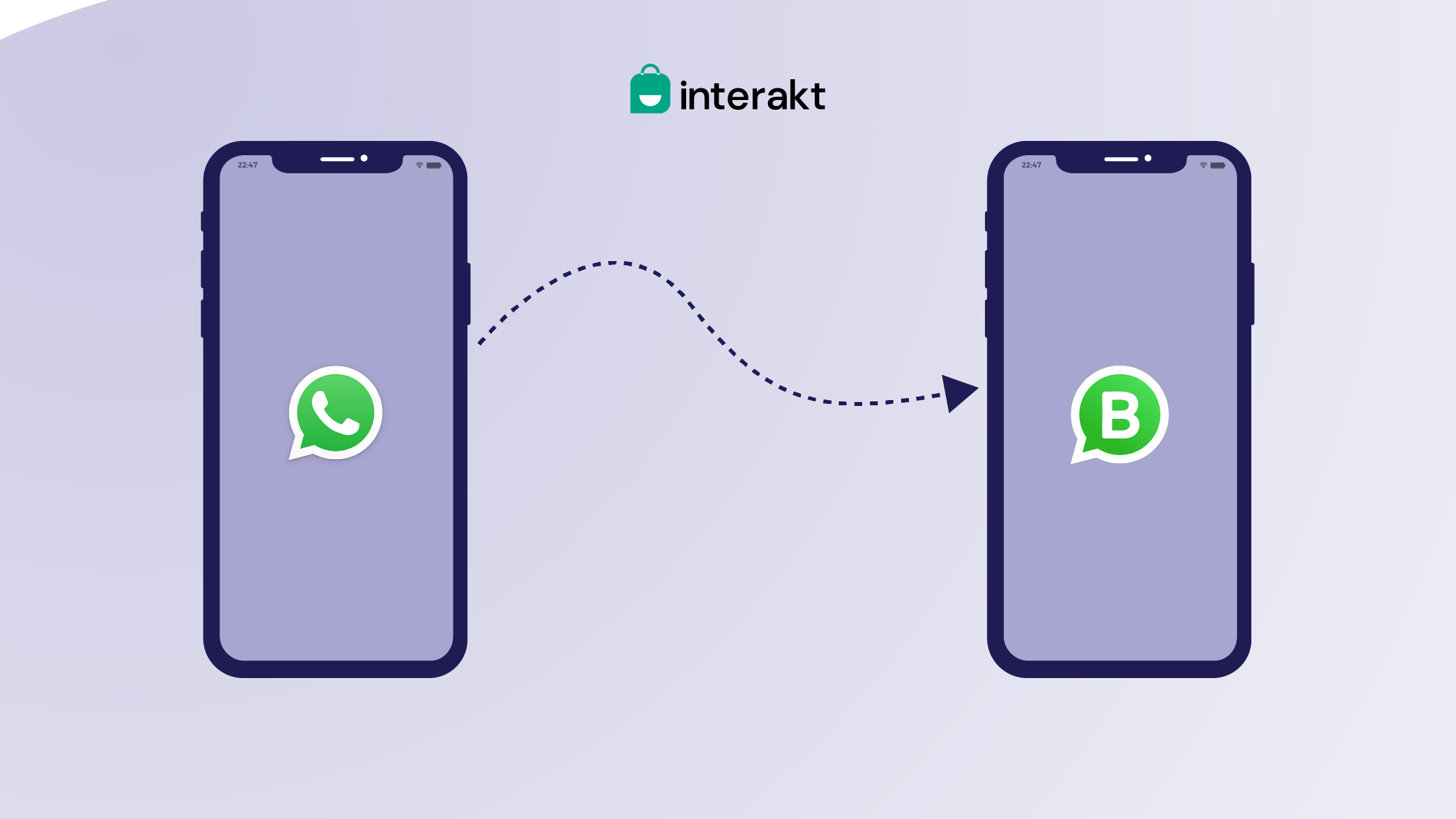 How to Convert Your WhatsApp Number To A WhatsApp Business Account: Step to Step Guide
In our previous lesson, we discussed the different types of WhatsApp accounts available to you. But if you're someone who started using WhatsApp for business purposes through their personal account, this lesson is for you.
We will start with a quick recap of why you need a WhatsApp Business account and then go into a step-by-step to convert your account.
What is the difference between WhatsApp account and WhatsApp business account?
WhatsApp Business is basically an upgraded version of the basic WhatsApp App with additional features that are meant for businesses.
The WhatsApp Business account was created keeping small and local businesses in mind. WhatsApp Business features were built to enable small and micro businesses to communicate with customers on their favorite messaging App.
Let's look at some of its key features and the difference between WhatsApp and the WhatsApp Business App:
1. A new logo
The WhatsApp Business App has the letter B written in the center of the WhatsApp Logo differentiating it from the normal WhatsApp logo that we are all familiar with.‍
2. Notifications about it being a business account
When your customer starts a conversation with you, they will see a notification that says, 'This chat is with a business account. Tap for more info'.
3. Option to create a business profile
Use the App to set up your entire business information and let customers know who you are, what you do, and how they can contact you. This is the gateway to creating the best impression in the minds of your customers. The App allows you to add a display photo, brand name, a brief description of your business, your location, working hours, a link to your website, and even a product catalog.
4. Get a glimpse of business statistics
On the App you will get to see the number of messages you have sent, delivered, read and received which will give you an overview of your WhatsApp Business Account's effectiveness in terms of customer engagement.‍
5. Chat labels
WhatsApp also lets you add labels to quickly organize and categorize chats for easy access.
In the WhatsApp Business App, you are given 5 standard labels to begin with. You can always add to this list with new label names and color code the same for quick reference.
6. Product Catalog 
The catalog is another feature that has proved to be extremely beneficial to grow businesses. This feature lets you create an online storefront for your business on WhatsApp. Using this feature, you can easily showcase your products and services in your catalog.
For every item that is displayed in your catalog, you can add details like image, description, and price.
You no longer need to redirect your customers back to your website to check out your offerings, you can simply share your catalog using a link on WhatsApp. Your users can then add products they need to the cart and send in their order requirements to your business via WhatsApp.
Send quick replies and set up away messages
The WhatsApp Business App allows you to send instant replies to your customers. Here's how it works. There are 3 kinds of messages that you will be able to send:
Away messages: You have the option to set the away message which will be sent to anyone reaching out to you at a time when you are unavailable or are "away" from work.

Greeting messages: This is a great way to welcome your customers. These messages can be customized and sent every time a new customer starts a conversation with you.

Quick Replies: These are message templates that can be set and sent out in response to questions that are frequently asked.
How to convert your WhatsApp account to a WhatsApp Business Account?
Before you start the process of converting to a WhatsApp Business Account, there are a few things to keep in mind.
You can either convert your existing Personal WhatsApp number and switch it to a WhatsApp Business number. Or you can make use of a brand new number for WABA.
If you want to retain your personal number for WhatsApp Messenger, you will have to register with a new number on your WhatsApp Business Account. However, it is possible for you to have both the apps in use simultaneously but only if they are registered under separate numbers.
Let's now take a look at how you can convert your WhatsApp Messenger Account to a WhatsApp Business Account. Here are the steps you can follow:
1.Take a backup
The first step is to take a backup of WhatsApp Messenger chats before the transfer is done. To retain chat history, backup is necessary. To do this, go to Settings, tap on Chat, and then on Chat Backup, tap on Backup / Backup Now.
2. Download the WhatsApp Business App
Next up, go to the Google Play Store or the App Store if you have an Apple device and download the WhatsApp Business App for free.
3. Agree to the Terms of Service and Register 
Then, read the WhatsApp Terms of Service and click on 'Agree' and 'Continue' to accept all the terms. WhatsApp will automatically detect the personal number that you are using on the Messenger App. To continue, enter your business number for registration.
4. Transfer your Account 
Turn on your phone and keep the WhatsApp Business App open until the account transfer is complete. While the transfer is taking place you may be prompted to restore from your backup. You can do this by clicking on Restore or you may choose to 'Continue'. Then click on 'Next' if prompted and allow WhatsApp Business to access your phone's media.
5. Add Contacts
Add contacts from your phone address book and give permission to access the photos, videos, and files on your phone.
6. Create a Business Account 
Update your business name, select a business category and assign a profile picture.
7. Set up your Business Profile
Tap on 'Explore' and then on Business Profile to add all the relevant information about your business like your address, description, working hours, and more.
You can keep editing your business profile after your WhatsApp Business account gets active as well.
Wrapping Up
Once you have decided on the number you want to use on your WhatsApp Business account, the next step is to set up your business profile.