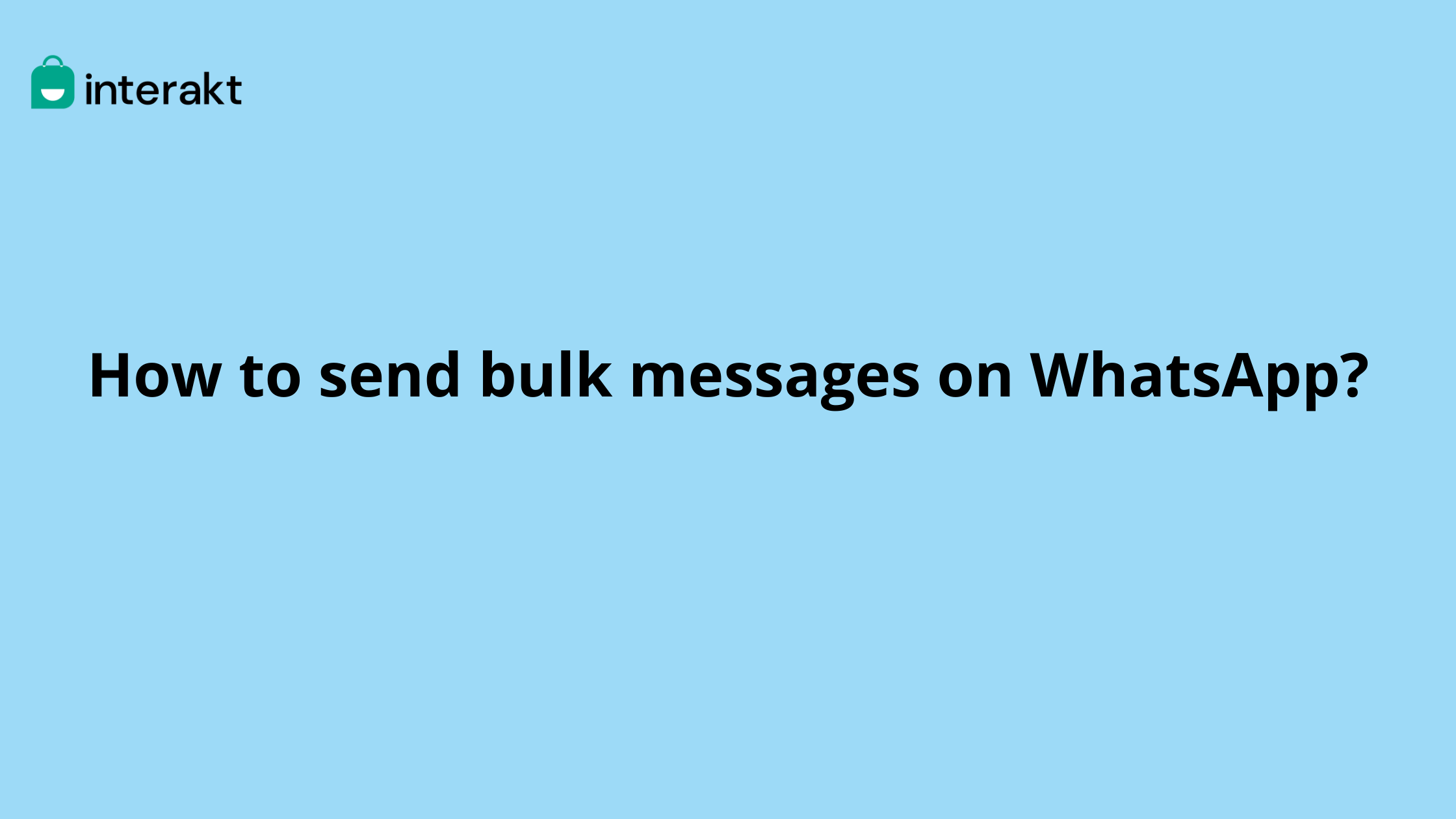 How to send bulk messages on WhatsApp?
Want to announce an upcoming sale, ongoing offer or a policy change that impacts your customers? It's time to send a bulk message on WhatsApp.
Now before we begin, it's important to know that both WhatsApp Business app and WhatsApp Business API support bulk messages. However, if you want to send a bulk message to more than 256 contacts, you will need the WhatsApp Business API – which is also a preferred option for fast-scaling businesses as it comes with additional features like scheduling campaigns.
But to put the WhatsApp Business API features to use, you will need a WhatsApp Business solution provider like Interakt.
What are WhatsApp bulk messages?
WhatsApp bulk messages are an effective channel of communication for businesses to contact leads and existing customers. Bulk messages resemble the usual WhatsApp messages, but come with an unlimited number of characters that can be used to highlight the value of a campaign. They can also include videos and images.
With the basics in place, let's get to the part of sending bulk messages on WhatsApp.
Step-by-step to send bulk messages on WhatsApp
The following is a simple 4-step guide to what you need to cover before sending a bulk message on WhatsApp. This is keeping in mind that you have already chosen a WhatsApp Business API solution provider, as mentioned before.
1. Import a contact list
The first step to send WhatsApp bulk messages is to import a contact list to the WhatsApp Business API solution provider's platform.
While importing contacts, make sure that all the contact phone numbers are in the international format with country and area codes in the CSV file.
2. Create a message template
Message templates need to be approved by WhatsApp before you send a bulk message on WhatsApp. The WhatsApp Business API solution provider you choose should ideally help you create and submit message templates.
Remember, if you want to make your bulk message more effective, you need to make it engaging. You can set up an interactive message template that contains a call-to-action or quick reply button, or a multimedia message template that supports text, images, videos and PDF files.
Once your message template gets approved, it's time to use and send a WhatsApp bulk message.
Not sure where to begin? Here are 20 ready-to-use WhatsApp message templates.
3. Compose your WhatsApp bulk message
Using the approved message template, customize the placeholders. Ensure you keep your message crisp and clear, focusing on what you want to promote and the action you want the recipient to take.
Make use of the formatting options available on WhatsApp to structure your messages well, and highlight the important parts. This includes the ability to bold or strikethrough words in the message.
Also remember to add multimedia to make your WhatsApp bulk message visually engaging, along with emojis.
4. Send or schedule your bulk message
To send a bulk WhatsApp message or schedule it at a specific day and time, you will need to set up a broadcast message campaign through your WhatsApp Business API solution provider. Make sure you name the bulk message clearly if you intend to send more campaigns in the coming period.
Remember to use tags to send targeted WhatsApp bulk messages. The higher the context of your bulk messages, the more likely a customer is to convert on your bulk message campaign.
Ready to send a bulk message on WhatsApp?
Bulk messages are a great way to reach out to customers at scale – consumers who have opted in to your WhatsApp list by interacting with your business or making a purchase from you previously.
But to be able to have more control over message templates and your bulk message campaigns, you will need to leverage the WhatsApp Business API.
Want to send a bulk message on WhatsApp? Book a demo of Interakt today.