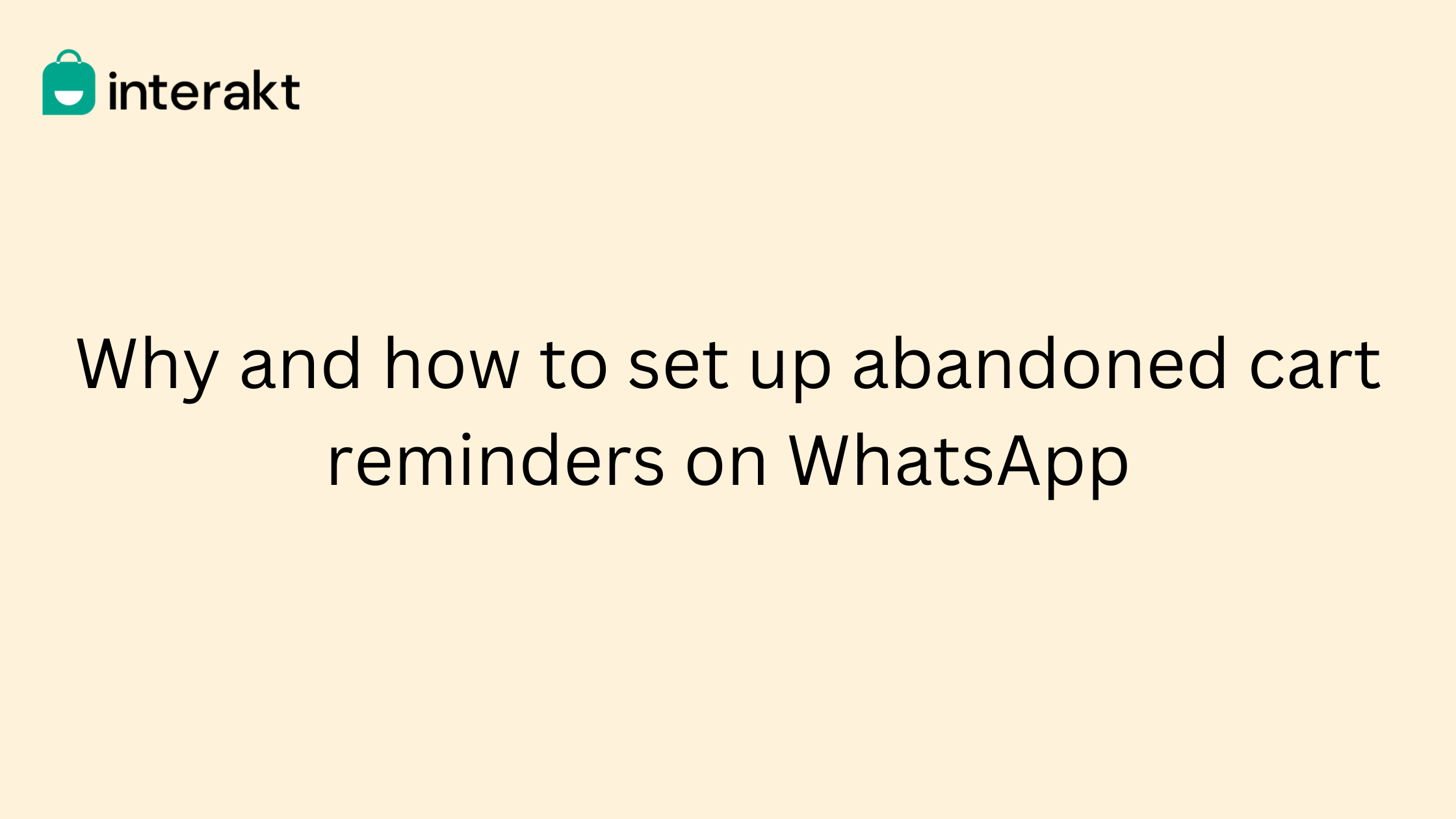 WhatsApp for cart recovery: Why and how to set up abandoned cart reminders on WhatsApp
Cart abandonment is one of the biggest challenges for online businesses even today. Despite the best deals, discounts and offers, and even products, eCommerce businesses see a high drop off at the purchase stage across all industries. 
If statistics are to be believed, the average cart abandonment rate is around 69.82% for most and that's a number you cannot ignore. 
While most businesses have an automated abandoned cart reminder on email set up to bring back these shoppers, a lot of them don't succeed owing to the 'timeliness' of the message getting noticed. 
That's where WhatsApp comes in and in this lesson, we're going to share why and how you can use this messaging app to bring back your lost customers. 
Before we begin, let's take a quick look at the various reasons businesses see cart abandonment. 
Why do online shoppers abandon carts?
Online shoppers may abandon carts due to a number of reasons; some of which include: 
Unexpecting shipping and delivery rates 

Lack of trust signals

Difficulty in-store navigation 

Low purchase intent

Long checkout process 

Lack of coupons/ discounts 

Lack of preferred payment methods

Limited shipping options 

Distractions from other websites 

Ambiguous returns, refunds, exchange policies 

Lack of social proof 

Lack of mobile optimization 
But if you consider all of the above, you will realize that the buyer is just a step away from making the purchase. All they need is a little nurturing to nudge them toward completing the checkout and placing an order. 
Why should you use WhatsApp for abandoned cart recovery? 
Most businesses will set up retargeting and remarketing ad campaigns, and even a series of emails to remind shoppers of what they've left behind. But as per statistics based on the campaigns we run on WhatsApp, here's why we think the messaging app makes for a good channel to re-engage buyers: 
39% of consumers prefer WhatsApp as a channel to communicate with businesses 

23% of consumers opt-in to get promotional offers on WhatsApp 

WhatsApp messages see 99% open rates as compared to emails (20%)

Messages on WhatsApp get a 45-60% click-through rate 

Businesses can reduce their response time by almost 98% 
How to set up cart recovery notifications on WhatsApp? 
Now it's important to note that the time and moment at which you send out an abandoned cart reminder, have a big impact on the conversions you get. This is why it is important to not rely on sending out reminders manually and leveraging automated campaigns instead. 
To set up WhatsApp abandoned cart reminders, you will need access to the WhatsApp Business Platform. 
From leveraging templates to setting up a series of automated reminders, you will need to make use of a WhatsApp Business API solution provider like Interakt for the same. 
Here are the steps you will need to follow for setting up abandoned cart reminders on WhatsApp: 
Sign up on Interakt 
The very first step is to sign up for an account with a WhatsApp Business API solution provider. Click here to sign up.
Head over to the notifications section to create a new campaign
Once your account is set up, the next step is to go to the notifications center and create a new campaign for cart recovery. 
Enter campaign details 
A cart abandonment reminder is meant to get triggered every time an online shopper abandons checkout; this is an ongoing campaign. So when setting up the campaign, add the filter 'abandoned checkout', then select 'created on' and 'has any value''. 
Choose a WhatsApp template 
Once you have filled in the details, the next step is to choose the WhatsApp template you want to use to send reminders. 
Note: If you're using Interakt, you can either choose from existing approved templates or create a new one for your cart recovery campaigns. 
Define the values for the campaign 
Once you have the cart recovery WhatsApp template ready, you will need to define the values and set the fallback values.
The following attributes can be picked to make your abandoned cart reminders more personalized: 
Order number 

Customer email 

Order date 

Order time 

Total amount 

Discount code

Item count 

Abandoned checkout URL  
Set the campaign live 
Once you have the template and the dynamic fields set up for better personalization, set the campaign live. 
Note: For a detailed step-by-step on setting up abandoned cart reminders on WhatsApp, read here. 
Just like any other channel, just setting up one automated message on WhatsApp as an abandoned cart reminder may not do the trick. This is where the importance of a strategy comes in. 
WhatsApp abandoned cart recovery strategy 
After having run multiple campaigns, here are some tips we recommend following as a strategy to recover more carts through WhatsApp. The idea is to subtly walk the buyer through a series of steps toward completing checkout: 
Send out a gentle reminder 
The very first step is to send the cart abandoner a gentle reminder within the first 24 hours of abandonment. This is to just let the consumer know that the product they added to cart is still available and waiting for them. 
Share social proof 
Follow up the above reminder with another reminder; but this time around, use social proof to do the convincing. You can share product reviews to validate how good the consumer's choice is and why they should definitely make the purchase. 
Create FOMO 
Before rolling out a discount to recover the sale, try creating FOMO around the same. Let the abandoner know how the product is going out of stock or is one of the fast-selling items. About 60% of people make purchase decisions based on FOMO. 
Entice purchase with discount 
If the above doesn't work, the reason for abandonment could be the cart total. Offer a discount on the cart total or a benefit like free/ discounted shipping. The idea is to make the purchase friendlier for the consumer. 
Create FOMO on the discount 
Don't let the discount go unnoticed. If you want the cart abandoner to take action on your abandoned cart reminder, you need to create FOMO on the discount offered as well. 
Offer shopping assistance 
If the consumer does not come back to your store to make the purchase, there's a chance they are confused. In this case, offering shopping assistance can help you recover abandoned carts. Be it in terms of helping them pick the right size of the product, or discover similar items, and similar cases. 
Send product recommendations 
There is a high chance that the consumer may have made a purchase from another store. In this case, you may not be able to recover the abandoned cart, but you can bring them back to the website by sharing product recommendations instead! 
Offer buy now, pay later 
Another tactic you can make a part of your WhatsApp abandoned cart recovery strategy is to offer 'buy now, pay later. This is considering that the consumer may not want to spend on the purchase right away due to a lack of resources; offering this, secures the sale for you and at the same time, makes it simpler for the consumer. 
Stop losing sales to cart abandonment 
WhatsApp is a much more intuitive and natural way to start conversations with your consumers. That's why we recommend making the most of it to even recover abandoned carts! 
But to be able to do the same, you will require using the WhatsApp Business API for sending out timely reminders and follow-ups. 
If you're still not using WhatsApp for cart recovery, sign up on Interakt to get started. 
But if you're looking for WhatsApp cart recovery message templates, head over to our next set of lessons to get inspired!