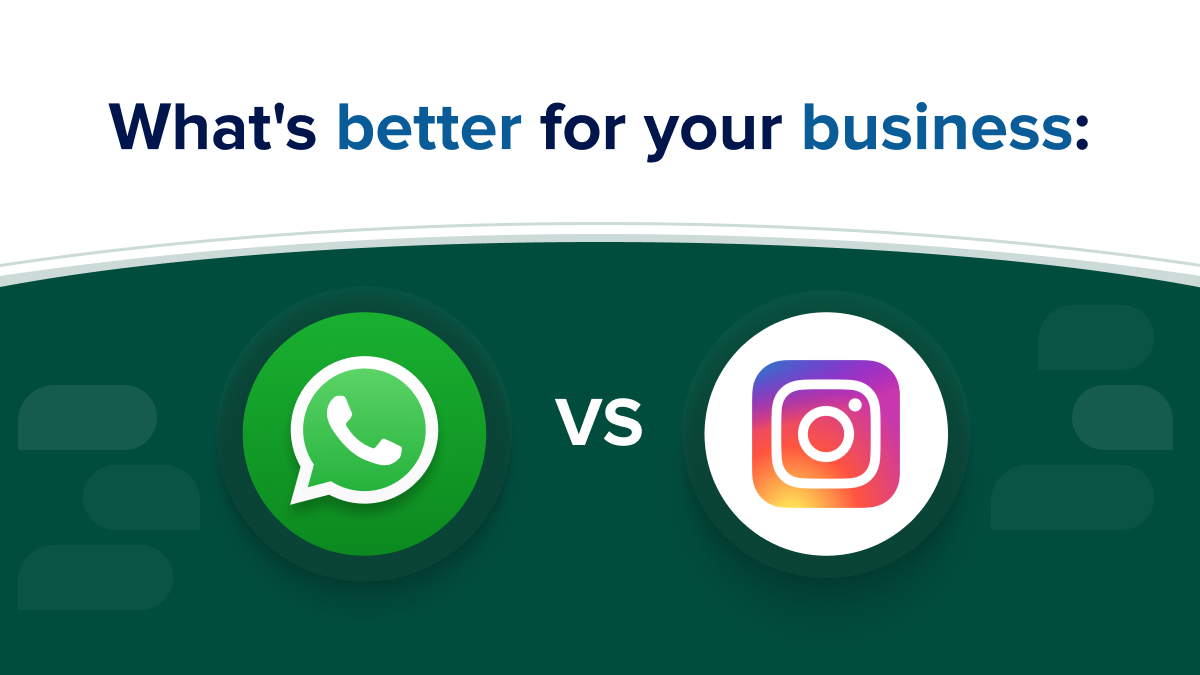 WhatsApp vs. Instagram marketing: What's better for your business, detailed comparison
As the modern world progresses, so does the concept of marketing businesses through apps like WhatsApp and Instagram. Both of these applications are mammoth tools for promoting businesses. But it is sometimes difficult to acknowledge one better than the other.
Being a business owner, it's crucial to keep exploring and analyzing your marketing strategies to stay ahead. 
While WhatsApp is more suited for personal communication, Instagram is a visual platform ideal for showcasing your product range and building a brand identity. So which platform should you be focusing on?
Without any further delay, let's dive into WhatsApp vs. Instagram to help you make the right choice.
WhatsApp vs Instagram marketing 
In the following sections, we're going to look into the capabilities of WhatsApp vs Instagram for businesses, starting right from the basics. 
What is WhatsApp Business?
The WhatsApp Business app and platform were designed specifically for entrepreneurs and small business owners. Businesses can connect with customers, manage and publicize inventories, and grow their businesses using a separate application from the standard WhatsApp messenger app. 
Furthermore, with around 220.5 million downloads, WhatsApp is the most established platform for business enhancement in 2023 – especially after businesses now have access to the WhatsApp Business API that further extends the functionalities with solutions like Interakt. 
What are the advantages of WhatsApp Business and WhatsApp Business API?
Let's now go through the advantages of using WhatsApp Business and the API to understand what makes it one of the best marketing tools for businesses:  
A User-friendly interface allows accessible communication. 
WhatsApp Business is easy to use and understand as people are already familiar with Whatsapp messenger, making it convenient for people not thoroughly tech-abled. Also, it is very comfortable for a one-on-one conversation as well as a large-scale broadcast. 
Enhance your marketing strategies with audience insights. 
WhatsApp Business API allows you to extract crucial insights like the number of texts sent and received, customer feedback, response rates, and order alerts. It is a direct aid that allows you to manage orders, inventory, and customer base simultaneously and effortlessly. Furthermore, businesses save a lot of time with features like quick replies and automations 
Assures safety and security with end-to-end encryption. 
WhatsApp Business is an encrypted messaging application that allows the safe transmission of information and protects it from unauthorized access. Its multiple protocol layers make it a safe and secure established connection medium. 
Keeping the fear of hackers aside, WhatsApp itself cannot access your messages, calls, locations, and other private information. However, businesses get insights into relevant information, which helps improve customer experience.

If you are using a WhatsApp Business API solution provider like Interakt, you further improve the security on both fronts. 
What is Instagram marketing?
Instagram marketing refers to promoting products, services, or brands on the popular social media platform Instagram. Through Instagram marketing, businesses can cultivate an engaged following, direct web traffic to their websites, and boost their sales and overall reach. 
What are the advantages of Instagram Marketing?
Here are some crucial advantages of using Instagram for marketing and other brand-building activities: 
Reach a wider audience with Instagram's massive user base. 
Instagram's massive user base has an undeniable advantage in expanding your business and reaching a wider audience. With over 2.3 Billion active users, it presents a huge opportunity to expand your reach exponentially. 
Furthermore, with almost 31% of global internet users on Instagram, it's the perfect place to build your brand identity. 
Make the most of your ad investment with targeted advertising. 
The Instagram algorithm helps businesses to reach out to users with specific interests, demographics, and needs, allowing them to tap into a highly concentrated audience. 
With its powerful targeting capability, businesses can quickly connect with their ideal customers. Therefore, this targeted approach helps businesses save time, money, and help generate maximum revenue with ad investments.
Reach out to your ideal customers with influencer partnerships. 
People become active listeners when it comes to influencers they follow. Businesses can use it to their advantage by partnering with influencers with a high following. 
Going with niche-specific influencers with a small yet engaged following is another excellent idea to get results with less investment. Instagram allows you to connect with these influencers and improve your overall growth with compelling content. 
Whatsapp Business vs. Instagram marketing: significant points of difference
Now that we are briefed about Whatsapp Business and Instagram Marketing, we can move on to comparing them to help you choose the platform that best suits your business. 
1. Active user base 
As of January 2023, both Instagram and WhatsApp have a monthly active user base of 2 Billion. This massive audience presents a unique opportunity for businesses to connect with a diverse range of potential customers and build brand awareness on a global scale.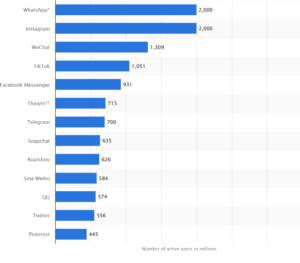 Even when both platforms are rapidly growing in terms of active users, only a tiny percentage of people are from outside the millennial generation when it comes to Instagram. 
Instagram, unlike WhatsApp, is an interest-based platform that targets users based on their liking and browsing patterns. But WhatsApp is more geared up towards their intent around why they want to engage with a brand. 
So if you are using Instagram to bring in top of the funnel traffic to your website, WhatsApp is more middle of the funnel where actually interested consumers reach you. 
2. Better marketing campaigns  
WhatsApp and Instagram are both excellent choices for running marketing campaigns. Still, Instagram does take the edge when we look at factors such as influencer collaborations, compelling posts and stories, and targeted advertising. 
Instagram is the best platform for brand building from the ground up, as initially, businesses do not have a customer base. Also, with the introduction of the reels section on Instagram, vertical video assistance has increased user interest by a large percentage.
Now if you have a stellar collection, you can motivate customers to upload images and create a branded hashtag like Wayfair decor did (#WayfairAtHome).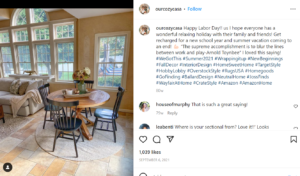 On the other hand, WhatsApp Business is very efficient for businesses with contacts and a customer database. It is a direct way to contact them, answer queries, and keep them updated with their orders. It allows owners to maintain direct relations and has a systematic customer arrangement.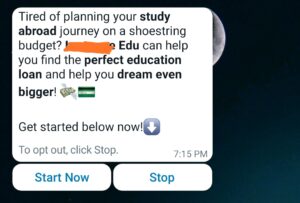 Thus, WhatsApp is better in terms of management, and Instagram is better in terms of growth possibilities through collaborations.
3. Customer response/support 
Both Instagram and WhatsApp have quick and efficient customer response systems, which allow a direct connection with the user. Instagram is great when we are building a community and engaging them, but WhatsApp business, on the other hand, remains effective for personal communication. 
Even though Instagram Direct messages act as a quick way of communication, WhatsApp Business is a far more personalized channel. People prefer using Instagram to come across new products rather than receive quick customer support. 
Both Instagram and WhatsApp Business applications can use third-party APIs for quick response and management of customers. This feature allows rapid response and maintains user interest.
Thus, both platforms are very compatible when it comes to customer support as they aid in building customer loyalty and also help in giving post-sale support.
4. Application integrations 
Businesses can boost their sales efficiency by using multiple applications such as Instagram and WhatsApp or Instagram and Facebook in conjunction. This allows businesses to leverage the strengths of each platform to maximize engagement and customer support.
Instagram is ideal for creative content showcasing, leading to massive reach and engagement. On the other hand, WhatsApp is perfect for customer support, buyer management, inventory handling, and direct communication. Instagram's comment section and DMs are great for initiating a first interaction with a new customer.
Additionally, the WhatsApp API is a powerful tool for managing customer interactions single-handedly due to its large user base. Although Instagram's API is limited, it still offers some valuable features.
To use both apps collaboratively, businesses can include their WhatsApp links on their Instagram account, and their Instagram handle on their WhatsApp bio. This seamless integration can enhance the user experience and make it easier for businesses to connect with their customers.
Alternatively, you can also use click to WhatsApp ads to drive traffic from Instagram to the messaging platform. 
5. Platform suitability based on industry 
WhatsApp remains a suitable platform for industries requiring personalized one-on-one communication for strengthening relationships. Some of these industries include ed-tech, hospitality, eCommerce, and healthcare, and many others. WhatsApp API provides a direct and immediate way to communicate with a target audience, including students, parents, patients, and guests. 
Here's an example of how eCommerce brands can make the most of WhatsApp for communicating specials offers and benefits to customers: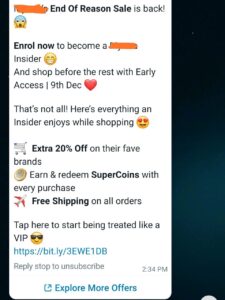 Conversely, any industry that can benefit more from focusing on the visual aspects should prioritize Instagram. These industries include fashion, travel and tourism, food and beverages, and more. The platform remains highly influential in showcasing new products, sharing behind-the-scenes content, and even user-generated content for increased engagement. 
There's no limit to creativity when it comes to showcasing your products on Instagram. Here's an example of a neat grid that captures instant attention.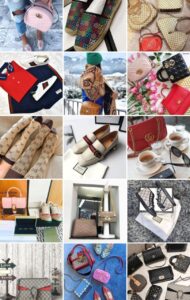 Lastly, all industries can benefit from focusing on these fantastic platforms to create brand awareness, strengthen customer relationships, and increase sales. All you need to know is the right balance, and you are good to go! 
5. Instagram Vs. WhatsApp: techniques used in promotion 
Instagram marketing remains highly beneficial for businesses looking to promote their products with compelling posts, short videos, carousels, and much more. 
Here are some available techniques that make Instagram a go-to platform for businesses looking to improve their online presence: 
With

direct ads and post boosting,

Instagram allows businesses to reach a broad audience that prefers their products or services. Features like region-focused advertising also allow businesses to target users in specific locations. 

Make informed marketing decisions and refine your strategy with Instagram's

insight feature

that provides valuable data on audience engagement, follower growth, and post-performance. 

Businesses can leverage the

power of visual content

with the platform's various features, like Instagram stories, reels, and posts, to showcase their products and services more effectively. 
On the other hand, WhatsApp remains a more convenient platform for personalized communication and effectively handling a large customer base. Here are some techniques used by the platform to achieve the same: 
The platform allows

effective customer segmentation

with different customer groups based on demographics, interests, purchasing behavior, etc. 

Reach a wider audience with

broadcast groups

and send them messages related to product announcements and the latest products. You will likely receive a positive response as customers willingly agree to receive these notifications. 
Also know more on WhatsApp Vs SMS and WhatsApp Vs Facebook
WhatsApp Business Vs. Instagram: What should you choose? 
After this detailed comparison between WhatsApp Business and Instagram marketing, we can conclude that both platforms have their own advantages and cater to different audiences. While WhatsApp Business remains suitable for personalized one-one communication, Instagram rules the visual aspect helpful in brand building. But don't worry; you don't have to choose between the two as you can leverage both channels to strengthen your marketing strategy. 
With the help of a WhatsApp Business API solution provider, you can integrate the two channels without any hassle. Want to know how? Book WhatsApp Business API Demo today