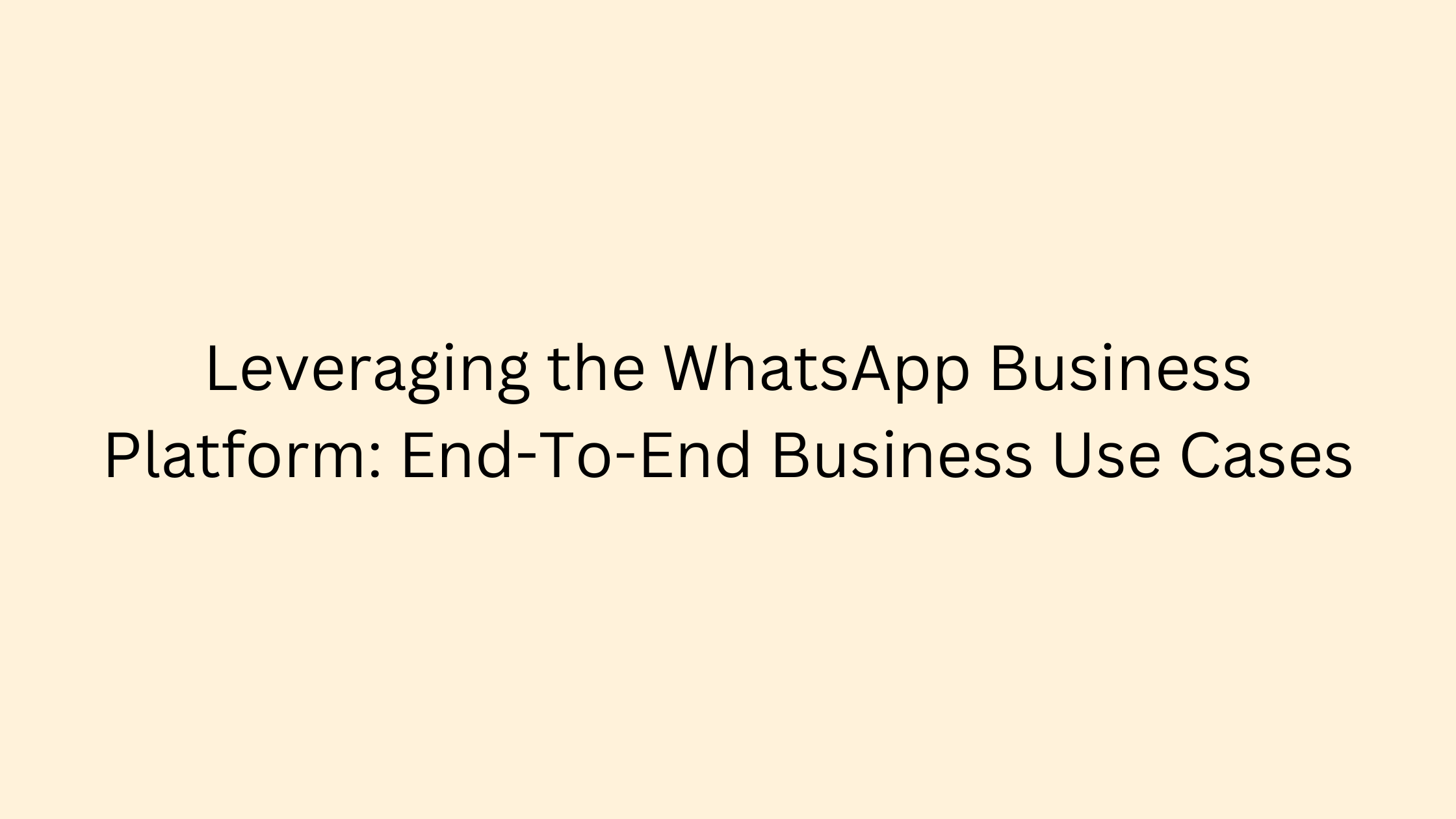 Leveraging the WhatsApp Business API: End-To-End Business Use Cases | Interakt
By now, it's an established fact among eCommerce businesses that WhatsApp is here to stay, and for a long time at that. It has become a channel well-loved and widely used by many eCommerce brands. According to a report, more than 50 million businesses globally use the WhatsApp business app. In India, each month around 3 million users view business catalogs on WhatsApp.
Over time, it has become evident that WhatsApp has end-to-end use cases, besides solely serving the purpose of promotional campaigning through broadcasts.
Let's take a look at some of these business use cases of WhatsApp.
Top WhatsApp Business API End-To-End Business Use Cases
1. Customer Acquisition
You need something that would help you convert leads who otherwise might have just clicked through your website, never to be seen again. WhatsApp provides a natural and seamless opportunity to acquire prospective customers. One way to do this is by cleverly sending CTAs that invite prospects to your WhatsApp chat. You can even send notifications that alert them about products and news. From your websites, you can invite them to a WhatsApp chat with an ad like this-
"Would you like to receive updates on WhatsApp?"
2. Incentivized Sales
WhatsApp can be an excellent platform to promote sales and engage both newer leads and already existing customers. And what better way to do this than by incentivizing your sales promotions? Using automation and chatbots, brands can send out clever promotions with discounts or other incentives, to nudge customers towards purchase. Here's an example;
"Hey, Dory. Here, for your next pair of sneakers? If yes, we have something for you. Use this CODE for a 15% discount on sneakers and casual shoes!"
3. Personalized Experience
Using the info from the customer's WhatsApp profile and additional info that your chatbots could collect with questions, as part of the opt-in from them, you can personalize conversations with customers. Start out by greeting them with their name and personalizing the promotions based on their region. A personalized message with a friendly tone can directly impact the effectiveness of your messages. Here is an example of such a chatbot greeting might;
"Hello, Marcus! Welcome to Shopstops! How may I help you today!"
4. Product Recommendations
Product recommendations in general, provide a great way for improving sales and promoting cross-selling. You can either send product recommendation messages directly, based on customer data or integrate product recommendations into a chatbot to actively give suggestions based on the customer's responses. Sharing product recommendations on WhatsApp is another major step toward personalizing customer experiences.
"Hey, Beth. We have something that you might love. Check out these new casual Winter wears handpicked for you from our latest collection."
5. Quizzes
Quizzes are engaging and interactive and have always consistently held on to their position among the most popular online marketing tools, over the years. When customers interact with a quiz on WhatsApp you are instantly provided with their data and a potential lead is acquired. Quizzes can also reveal important information about the customer that can be used to provide a hyper-personalized experience.
"Hello, Greg. Are you willing to take our Welcome to Shuglife Quiz? Your answers will be recorded and used to provide a super-personalized shopping experience."
6. Helpful How-to Guides
Every customer is bound to have doubts about the specifics of a product or have trouble setting up a product that needs assembling. You can share how-to guides and helpful media on WhatsApp, or you could employ a product help bot that can proactively communicate with customers and answer their questions. Unlike FAQs, the guide bot also highlights and promotes the benefits of the product.
"Hey, Mohan. Thanks for reaching out to us! The product that you are looking for comes in sizes UK4-UK11. We would recommend going for a size larger than your usual footwear sizing, for this product. For clarity, you can refer to the attached size chart pdf file."
7. Product Finder
A product finder helps customers filter products from the otherwise cumbersome and huge list of products. Instead of having to browse through all the overwhelming choices, buyers will be aided in finding the right product based on their preferences. Bots can ask specific questions and guide consumers to the options that best suit their needs.
"Hey, Bonnie. What are you looking for today? Type 1 for casuals and 2 for formals."
8. Recovering Abandoned Cart
Cart recovery is one of the most infamous villains prevalent in the eCommerce world. But WhatsApp messages and automation have been known to improve cart recovery significantly.
This has been the case with Perfora, a new-age DTC oral care brand. They have used the WhatsApp Business API with Interakt to successfully boost Shopify cart recovery rates. Using WhatsApp for communication, the brand saw a 10% improvement in abandoned cart recovery.
You can employ WhatsApp in sending a cleverly crafted cart recovery message like the one below.
"Hey, Prateek. Your shopping cart was left unattended. Get to it right away for a juicy 5% discount!"
9. Transactional Messages
Another major WhatsApp use case is for sending transactional notifications, payment confirmations, invoices etc. With its end-to-end encryption, WhatsApp makes for a secure and private channel for sending such sensitive information to your buyers.
"Hey, Clyde. This is a confirmation that we have received your payment. Your order will be shipped within 24 hours. You will find the attached invoice file below. Thank you for shopping with us!"
10. Post-Sale Support
Your presence and support are just as important after purchase as it is before. Check-in on customers after they have received their products, and provide helpful media files or other instructions for products that are complex and require how-to guides.
"Hey, Anu! How do you like your new Winter coat? If you need ideas to style them you can just reply to us."
11. Product Life Cycle Offers
Most products online have a consumption cycle. By predicting when your customer will run out of a product, you can send a template message to alert them to restock such products before running out.
"Hi, Chan. How good was the pack of Assorted Sauce Dips? If you are running low, reply to us for a reorder."
12. Shipping Updates
When you ship your products, instantly update your customers with a WhatsApp notification. This will help relieve customer anxiety surrounding an order. Shumee, a unique DTC kid's toy brand, with the help of Interakt, uses WhatsApp automation throughout a customer's journey, including sending order confirmations and shipping alerts. Their proactive communication on WhatsApp has helped them achieve an average engagement rate of 83%!
Unlike a tracking number sent to customers, on WhatsApp, you can send shipping updates whenever the package shifts location.
"Hey, Howard. Great News! Your package has been shipped. It will reach you by Sunday, September 26."
13. Loyalty Programs
Consistently updating customers about the loyalty programs that they have joined, is crucial to ensure they are engaged. Making customers stick to a loyalty program can be a hassle. To simplify this and engage customers, use WhatsApp integrations to automate notifications related to points won, reward redemption, reminders etc.
"Hello, Jerry. You now have 150 reward points! Redeem now for a 20% discount."
14. Collecting Feedback and Reviews
Feedbacks and customer reviews help you improve your business, but how do you simplify the process of collecting them? Not every customer would want to open emails and give reviews after they have received their product. With WhatsApp, you can proactively communicate with customers and send out feedback request messages that stand a better chance of getting replies.
"Hello, Johnny. Thank you for purchasing from us! We would be glad to hear what you think about our product. You can reply to us with your valuable review."
15. User-Generated Content
User-generated content can be easier to acquire through WhatsApp due to the built-in camera features. You can persuade users to share a quick video or photo of products that can be shared on your product pages or on social media. Unlike other channels, requesting users for a photo or a video can feel natural and simpler on WhatsApp.
"Hey, Asha. Hope you loved your Red Promax Running shoes. We would be glad if you could share a photo of the product along with your review of it?"
16. Unboxing Experiences
By providing useful product info, you should convey plainly what the customers are purchasing. This will reduce customers' remorse and anxiety as they are aware of what they are going to receive, exactly. You can prompt your customers on WhatsApp to share product unboxing videos while sharing some of them yourself. This way, such helpful videos can be shared with other buyers as a part of purchase guides.
"Hello, Mickey. Still not sure, whether to buy or not? Here is an unboxing video of the Spikerog Sports Shoes, from one of our dear customers. Hope this helps!"
17. FAQs
It is common in eCommerce to receive scores of similar customer queries that are easily answerable but take precious time off of live support agents. These questions are usually about refunds, returns, product sizing etc. which can be easily tended to by a chatbot. Employ a WhatsApp chatbot to answer all the generic questions and when complex queries turn up, they can be seamlessly transferred to live agents.
"Hey, Fred. Welcome to our Redcar Help Centre. How can we help you?"
18. Live Customer Support
WhatsApp provides your live support agents with a powerful and seamless way to converse and attend to their queries seamlessly. And having automated chatbots can allow your agents to attend to serious queries while the chatbots deal with generic questions. Creative Dukaan, using the WhatsApp Business API on Interakt, has been able to bring down customer support resolution time from 2 days to 6 hours. That's an 88% improvement in issue resolution times!
"Hey, Janice. Thanks for reaching out to us. One of our live agents will get to you shortly, who will be able to help!"
19. Multilingual Service
WhatsApp is present in 180 countries and has access to many languages. This means that you can communicate and do business with people that don't speak your company's native language. Your bot can ask what language they might want to communicate in before the chat progresses.
"Hello there! For service in different languages, type the correct number. 1.Spanish 2.Italian 3.German 4.French 5.Arabic 6.Turkish 7.Hindi"
Should Your Business Use WhatsApp?
WhatsApp has become a staple marketing channel in eCommerce, providing access to its massive number of active users globally. It's only natural for businesses to be where their customers are. WhatsApp can be used to seamlessly interact and engage with very different customer segments, as it is a highly conversational channel.
But to be able to work at scale and utilize the entire range of benefits that the channel offers, you need the WhatsApp Business API.
Interakt provides you with strategic solutions by leveraging the WhatsApp Business API, allowing you to boost engagement and enhance the way you conduct business.
This is your cue to sign up for Interakt!