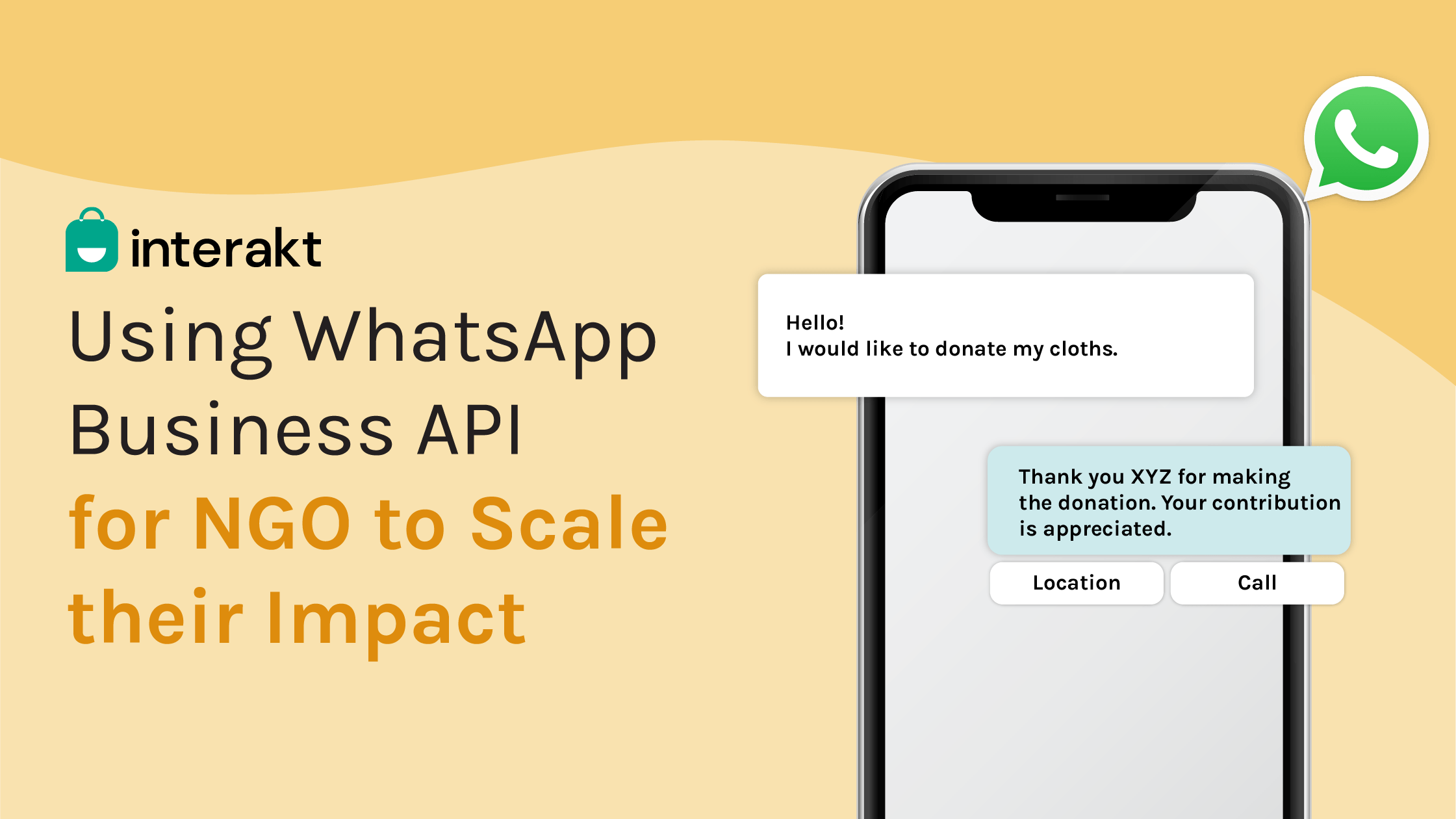 Using WhatsApp Business API for NGO to Scale their Impact
Communication is a pressing issue that NGOs face around the world. If you have made up your mind to do good, technological issues shouldn't dampen your spirit. It's more important now than ever for you to be reachable. If you can connect with people, understand their pain points and send across the right communication, then you are on the right path to success.
Today messaging apps like WhatsApp have made it easier for NGOs and non-profit organizations to connect with more people. This gives them a great avenue to promote the noble causes they are involved in. NGOs can use WhatsApp to instantly get in touch with beneficiaries, volunteers, donors and other stakeholders. It has helped them communicate with members and third parties alike, in coordinating and organizing events and drives.
The Use of WhatsApp in NGOs
The WhatsApp Business app has important features that NGOs can take advantage of:
• It allows you to create a verified business profile
• Engage in real-time conversations with members, donors and volunteers
• Set up automated responses for frequently asked questions (which will further help you save a lot of time and effort)
• Share documents, images, videos, PDF files and audios to make your content more engaging and useful to recipients
• Use the 'labels' feature to organize your contacts and chats
• Set automated messages to welcome new contacts or acknowledge messages that have reached you beyond your working hours
‍
The WhatsApp Business App is most suitable if you are a small organization with 1-5 members where one or two of your teammates can handle all the incoming queries. However, if you have an entire team who needs to collaborate and work together closely, then the WhatsApp Business API is more ideal.
Before using the WhatsApp Business App there are a few things to decide on:
‍
1. The number you will use 
It's important to give careful thought to it because this is the number that will be shared publicly. It will appear on your website, brochures, magazines etc.
‍
2. The people who will handle the channel 
Before you start out, it's crucial to decide the people who will handle the messages your NGO receives. This is simply because WhatsApp is an instant messaging platform where users expect quick responses and your team should be able to handle all the messages that come in. Be sure to assign this duty to individuals who are already handling communication and announcements. Apart from offering quick responses, they must ensure the right content goes out on WhatsApp.
Let's now take a look at how WhatsApp Business API is useful for NGOs and how it will help them carry their work forward.
WhatsApp Business API use cases for NGOs
‍
1. Shared team inbox 
The shared team inbox allows users to manage all their chats on a single user-friendly dashboard. Your team members can coordinate to manage incoming chats and conversations. This feature supports multiple users and devices and will also help your team manage requests, queries and questions effectively.
‍
2. Quick replies 
This is an important feature that will save your organization a lot of time. It allows you to save and re-use messages to take care of commonly asked questions.
‍
3. Instantly communicate with people

Every day, NGOs come across different kinds of inquiries. The day-to-day activities of an NGO involve customer relationship management, responding to questions, attending to grievances and advancing the cause. Delay in responding to customer messages has a good chance of affecting your customer service reputation adversely which can then lead to a reduction in donations and participation.
WhatsApp helps overcome these issues by facilitating direct two-way communication where people can get instant responses to their questions, have their doubts cleared, gather information about events or upcoming programs and learn how they can play their part in contributing to the cause.
‍
4. Bulk Notifications

The bulk WhatsApp notifications feature allows you to send personalized messages and alerts to keep people updated on upcoming events and activities. These are messages that you can send out to a large group of people who have opted-in to receive messages from your organization, at one go! This feature will help you save time and maximize resources to improve productivity.
5. Share product catalogs at scale 
This is a fairly new feature which NGOs can take advantage of. It allows you to share your catalog which captures all the details of the work you undertake. It can be shared with potential donors who are interested to learn all about the cause they are supporting.
Leverage WhatsApp Business API to promote your cause
Take advantage of its power packed features to transform your business communication and outreach. Sign up on Interakt and avail a 14- day free trial.