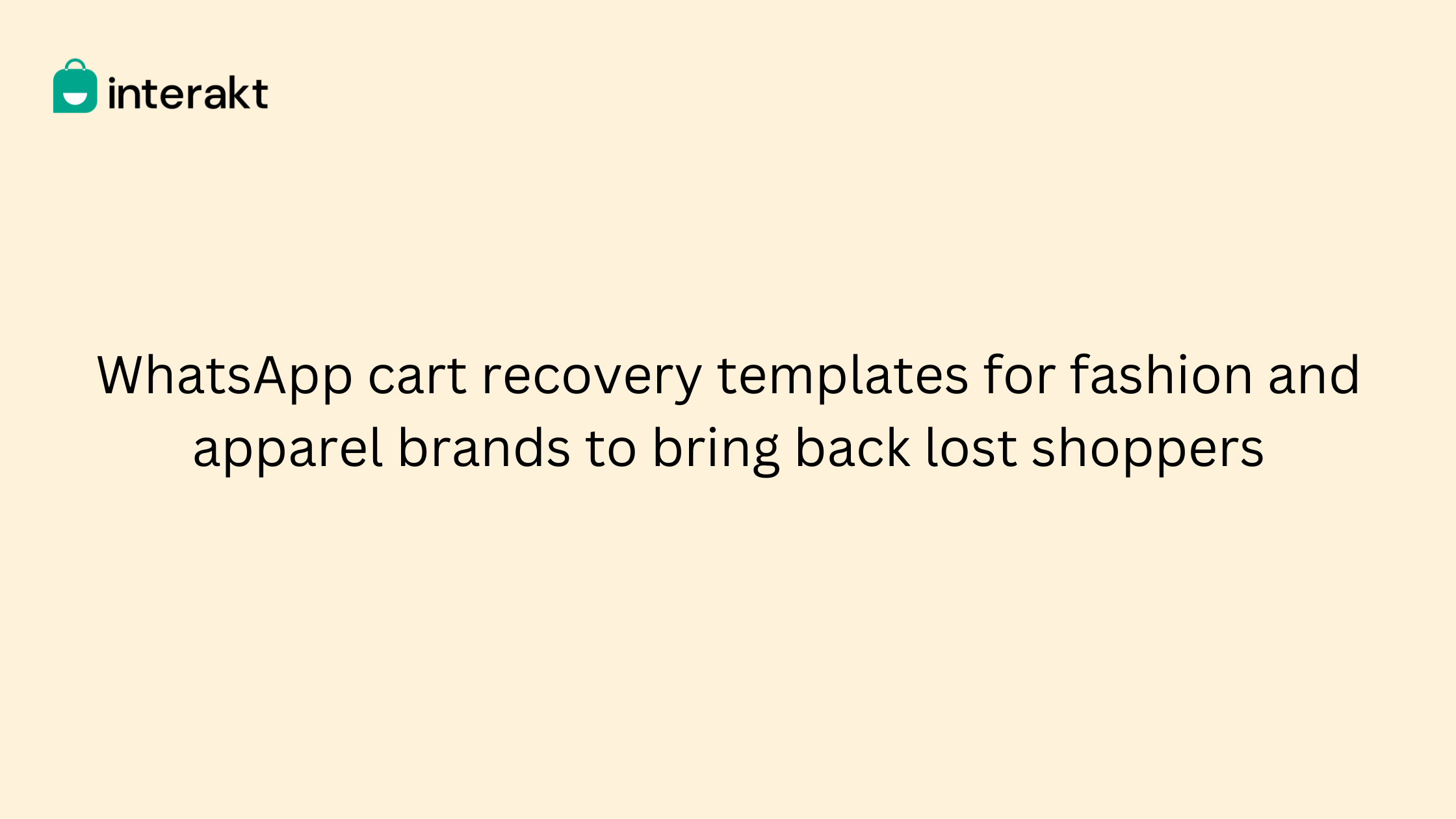 WhatsApp cart recovery templates for fashion and apparel brands to bring back lost shoppers
Fashion and apparel is one of the fastest-moving industries in eCommerce. Owing to the changing trends and consumer behavior, there's always something new in the industry, resulting in an increase in competition. 
While this means a lot more options becoming available to consumers, it also means increased competition for businesses. This has led to most fashion and apparel brands seeing almost a 91% cart abandonment rate. 
In our previous lesson, we talked about how WhatsApp makes for a promising channel to recover abandoned carts and how you can set up an automated campaign. 
To make things even simpler, we're sharing some WhatsApp cart recovery templates your fashion and apparel brand can make use of. 
WhatsApp cart recovery template for fashion and apparel brands 
While the following templates are written to help you make cart recovery reminders more impactful, we do recommend personalizing and customizing them further to match your branding. Remember to take into account your target audience and ideal customer persona before setting them up. 
Send a friendly reminder 
Sometimes, online shoppers get distracted by other deals and discounts, or even their environment. Use these templates to send out simple reminders to abandoners. 
"Hey Jane, we're here to remind you about the black dress waiting in your shopping cart. Don't worry we've reserved it for you!" 
"Hey Sam, looks like you forgot to buy the pair of jeans in your cart. Don't worry, we have it saved for you! Come back and complete the purchase now." 
"Hey Fran, there are items waiting for you in the cart. We think it's time to come back and buy that #ootd you've been thinking about!" 
Offer shopping assistance 
Buying fashion and apparel products online can be tricky; from the material of items to the sizing and more, there's always a lot that a buyer needs to take into account. 
"Hey Sara, looks like that black dress is still waiting for you in the cart. Do you need some help in picking the right size?" 
"Hey Jane, we saw that you added 2 pairs of jeans to your shopping cart. Do you need help with a sizing guide to complete the purchase?" 
"Hey Sam, not sure which color shirt to buy? We have a few lookbooks designed to help you pick the best shirt for you!" 
Send a discount 
Most online shoppers are looking for discounts when purchasing fashion and apparel products. Use that as leverage to bring them back to your store. 
"Hey Jane, there's a special 25% off running on the black dress in your shopping cart. Offer ends in 24 hours!" 
"Hey Sam, we have saved your favorite pair of jeans in the cart. Get an exclusive 15% off if you make the purchase in the next 30 minutes!" 
"Hey Shay, the cotton blazer you picked is still waiting for you in the cart. Use code BLAZE25 to get a 25% off on the cart total!" 
Create FOMO 
Owing to the number of choices available to fashion and apparel shoppers, it's important to send more than just a reminder to cart abandoners. It's important to create FOMO around the items in the cart! 
"Hey Fin, the black dress waiting in your cart is selling out fast. We have only 5 pieces remaining in your size. Hurry!" 
"Hey Jesline, the blazer in your cart is available at a 10% discount and is running out fast. Come back to the cart now. Don't miss the deal!" 
"Hey Sam, the blue shirt in your cart is wishlisted by 159 more people. Get it now before it sells out – we've reserved it for you!" 
Share social proof 
Sometimes fashion and apparel purchases need reassurance in terms of the choice made. While you can't get a consumer's friends and family to validate their choices, you can make use of social proof instead to recover carts. 
"Hey Jane, the black dress waiting for you in the cart is getting a lot of love. Here's what customers are saying about it – 'Absolutely love the fitting and material of the dress!'"
"Hey Samuel, great choice! The shirt you added to the cart was recently styled by your favorite celebrity. Take a look and come back to make the purchase before it runs out!" 
Ready to set up WhatsApp abandoned cart reminders? 
While a lot of brands are signing up for a WhatsApp business account, it is important to note that timeliness is key for cart recovery. 
To be able to automate abandoned cart reminders and make the most of the WhatsApp templates above, you need access to the WhatsApp Business API. 
If you don't have it yet, it's time to sign up for WhatsApp Business API on Interakt and set up your abandoned cart recovery campaign. 
Looking for more WhatsApp templates for cart recovery? Explore other lessons in our academy to get industry-specific templates.