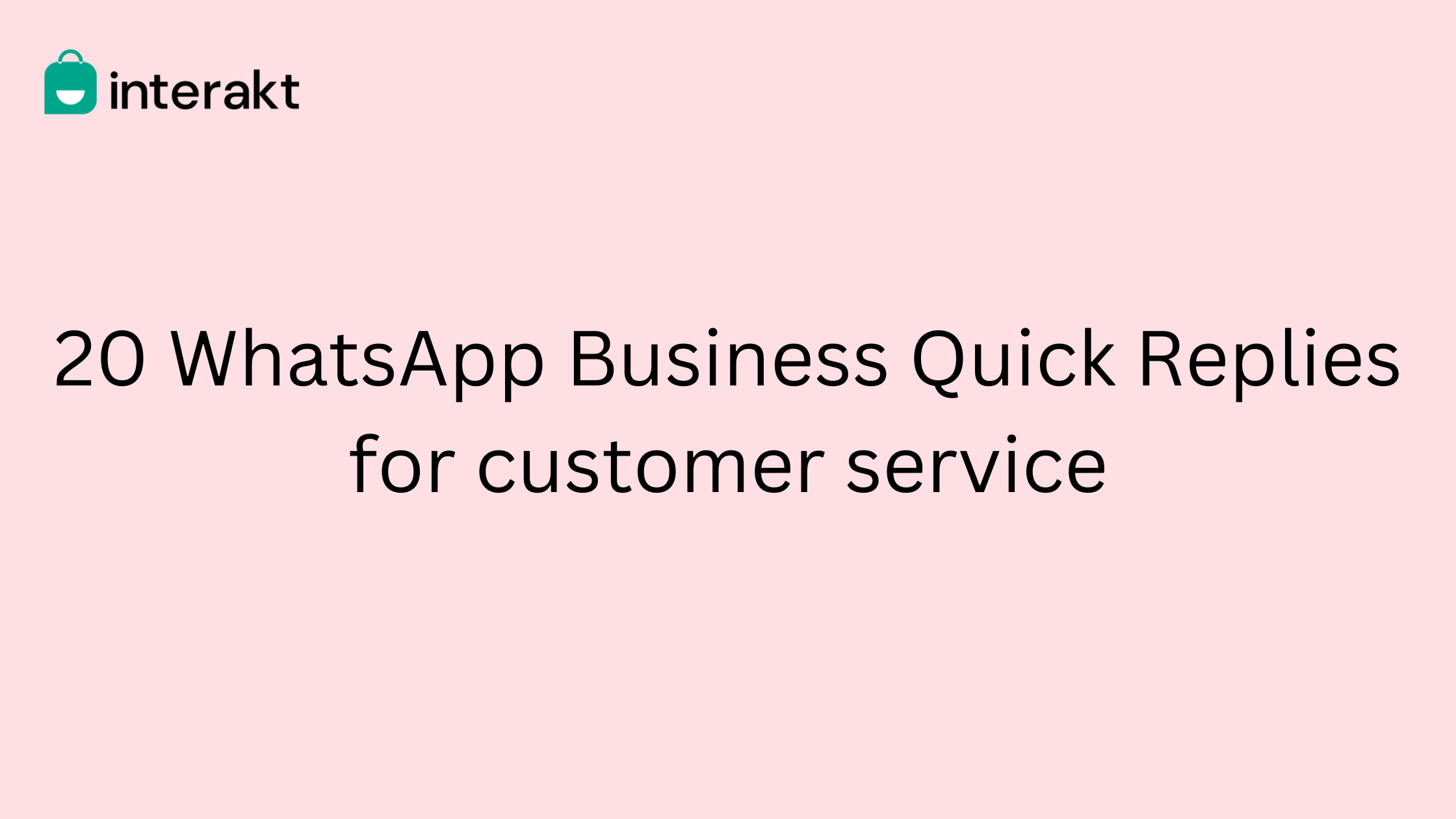 WhatsApp Business Quick Replies: Streamline Customer Service with Auto Messaging
WhatsApp Business platform has become the most used business interaction app since its launch. As of today, WhatsApp Business has 5 million businesses using it to communicate with their customers.
In fact, businesses in India have reported a significant increase in sales after WhatsApp Business was launched for small business owners where they can interact with their customers one to one and resolve queries on the go, which wasn't a possibility with the traditional text messages.
But for businesses to maintain customer relations, remain proactive on WhatsApp, and be able to offer support on the chat app, can get really overwhelming as they grow.
This is where WhatsApp Business API comes into play. With powerful features such as the ability to set up WhatsApp quick replies and automated WhatsApp workflow to common consumer queries, brands now have an opportunity to proactively converse with their customers to deliver a great experience.
But what kind of WhatsApp quick replies do you need to keep ready? Let's start with a quick introduction to what quick replies really are. ‍
What are WhatsApp quick replies?
A WhatsApp Business quick reply is a templated message that you can easily search, edit, and send to your customer to respond to their message/ query. They are often used by customer service agents to answer frequently asked questions.
The more repetitive questions you get, the more time (and sanity) a quick reply will save you.
What are the benefits of WhatsApp Business quick replies?
Using quick replies makes your life easier in multiple ways:
• They improve your response time
• They save your customer service team time
• They make it easier to keep a steady tone of voice as a team
While some quick replies you'll be able to identify on the go, here are some we recommend having beforehand.
How to use WhatsApp quick reply in WhatsApp template messages?
Based on the stage that a customer or a subscriber is at, and how or when they choose to interact with your business, here's how you can use WhatsApp Business Quick Replies as WhatsApp Template Messages:
Welcome messages 
1. Hi (customer name), thank you for contacting our customer support. Our team will get in touch soon.
2. Hey there! We at (organization name) are elated to see you here. How can we help you?
3. Hello (customer name). We are here to help you 24*7.  How can we help you today?
Availability hours
4. Our store is open from (add opening and closing time, example 9 am to 5 pm). You can visit us any time through the week or reach out to us on this number.
5. Hey (name), our customer support team is available from 9am to 5 pm on all week days. Please reach out to us if you need anything!
Delayed reply message
6. Oops! We are sorry to keep you waiting. We were out of office all this while. Feel free to ask anything now.
7. We've received an overwhelming response in the past couple of days; might have missed your message. Sorry for the wait! How can I help you?
Refunds and return policies
8. At (company name), we accept returns within 21 weekdays. Please read our return policy for more information: [link].
9. Your refund is on your way. Expect it by (mention the time span).
No discounts messages
10. The best discounts are what you see on our website. There are no other discounts anywhere!
11. Hey (name), we don't have any other discounts running on our products. But we assure you that the quality will win your heart!
Technical glitches
12. Err..looks like we have run into technical issues with our website. We are trying our best to get things back on track. Please bear with us
13. Thank you for being patient with us. Our tech team has fixed the issue. Happy shopping again!
Ask satisfied customers for a review
14. Liked our customer support? Feel free to leave a review of your experience with us. It'll only take a couple of minutes: [link].
15. You recently bought product ABC from our store. We'd love to know if you liked the shopping experience. Would you like to drop us a quick review? (link)
Products notifications
16. You asked for it, we have it. (product name) is back in stock. Grab it soon before it's gone again! (link to website)
17. We're launching our new collection of (product name) today. It's not on the website yet, but would you like to get a sneak peek and pre-order one for you? Reply in Yes/ No.
18. Our new collection of products is live now! Check them out and get an exclusive 20% off if you purchase a product today. (link to website)
Closing conversations
19. Thank you for reaching out to us. Hope we were able to answer your questions well. If there's anything else you need help with, you know where to reach us! ?
20. You're welcome (customer name). Hope we were able to answer your question. Is there anything else you need help with?
Get better at customer service with WhatsApp!
WhatsApp is where your audience is proactively engaging in conversations. So when they reach out to you, don't forget to be as proactive with your response time.
This is where having an official WhatsApp Business Solution provider like Interakt comes into play. It helps you set up WhatsApp Business quick replies and also manage all conversations in a shared inbox to stay on top of things at all times.
Get started with Interakt's 14-day WhatsApp Business API free trial today.