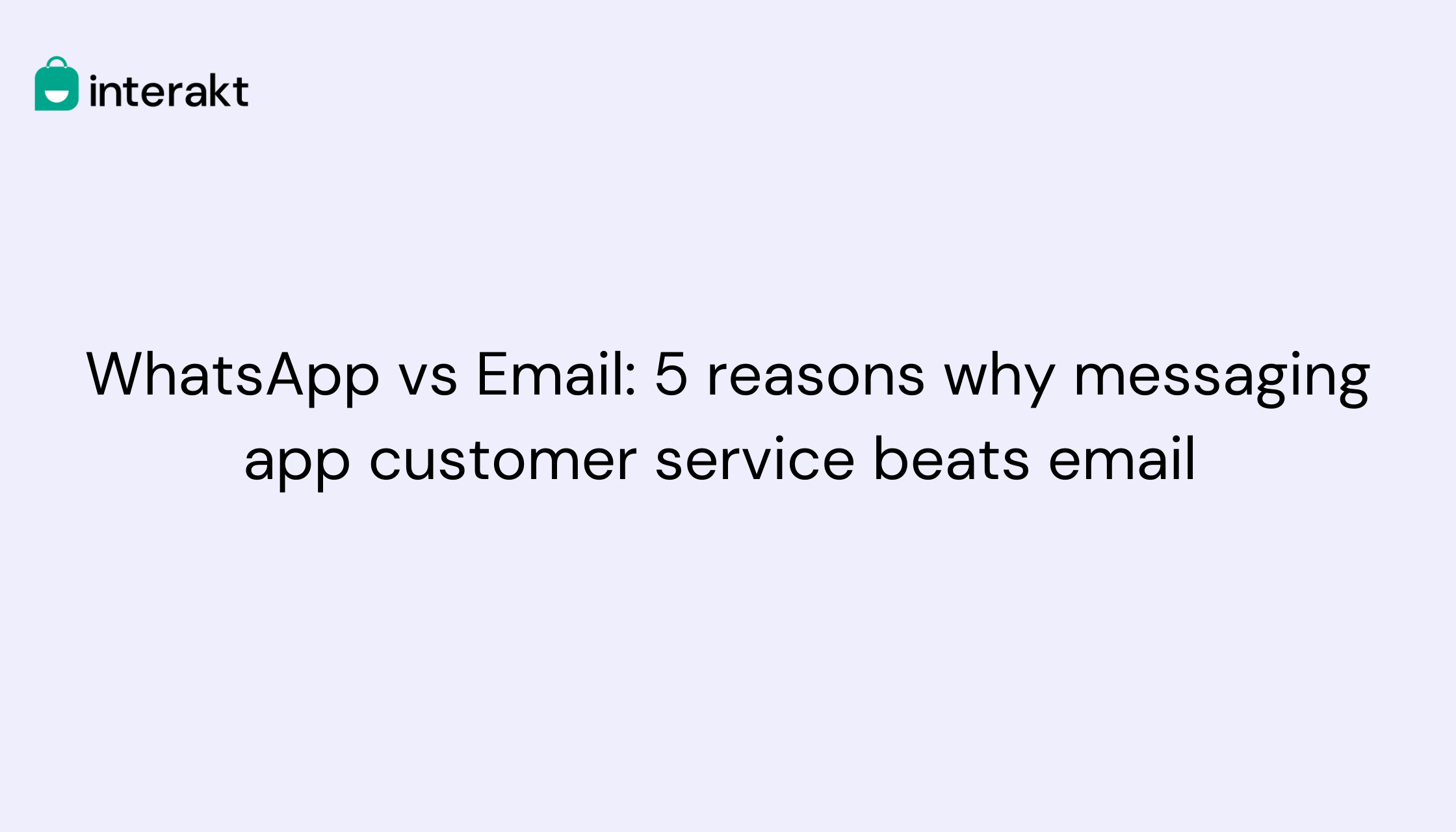 WhatsApp vs Email: 5 reasons why messaging app customer service beats email
Have you ever reached out to a business seeking support on email for something you need an almost 'immediate' assistance with?
Ever felt like it was just getting harder for you to reach out to them and keep track of the conversation on the email chain?
You're not alone.
As per statistics there are 333.2 billion emails sent and received per day. Take a look at your email inbox right now and tell us if you can easily find that last conversation with a brand you had reached out to for support.
That's exactly why it's important to start using messaging apps for customer service instead of email. In this article, we're going to give you five concrete reasons why WhatsApp Business Platform always win the WhatsApp vs Emails battle.
‍
WhatsApp vs Emails: Why you should use messaging apps for customer service
1. It's more convenient 
As we move to digital for practically everything we do day-to-day, we're spending a lot more time on our smartphones. In fact, it was found that 79% of consumers shop online using their smartphones for everything including groceries.
The reason? Convenience.
While email too can be accessed on mobile, we're mostly using our smartphones to stay in touch with our friends and family. That makes us more active on messaging apps like WhatsApp – studies have found that users spend almost 38 minutes on average on the chat app every day.
When your customer is so active on the platform, why not make use of it to offer more proactive customer service too? The convenience of checking the response as compared to having to sift through emails to find a reply, is obvious!
2. It's more personal 
Emails are actively used for more 'professional' conversations and often tend to be frustratingly slow. The long email chains around conversations further make it harder to keep track of answers – imagine having to trail back to the first email to find an answer to your support query.
Messaging apps like WhatsApp bring you closer to where your customers are actively engaging in conversations on a personal front as well. Customer service experience should be as personal and that's why the messaging app wins the WhatsApp vs Email round here.
In fact, a study also found that consumers tend to trust businesses more when they can 'message' them easily.
3. It's more engaging
WhatsApp lets you easily send photos, videos, PDF files along with the usual text messages. It doesn't require the sender to 'attach files' or the recipient to scan for viruses and then download something.
Imagine the amount of time this adds to a simpler customer service query like 'how to measure your ring size'.
We think WhatsApp is a much better channel to offer customer service, since users are already making use of it to exchange rich media on a day-to-day basis. With visuals, you also get to add more personality to your messages, leaving a better impression on the customer.
4. It's much faster 
Studies suggest that the average response time for emails is about 12 hours; but in some cases, it may take up to 8 days. If you think about that for a minute, you will realise that by the time a consumer sees your response on a query, there is a high chance you have already lost them!
WhatsApp on the flip side, offer almost immediate responses. In fact, they see a 99% open rate, leading to higher click through rates and conversions as well. Businesses leveraging the WhatsApp Business API have seen their response rate go from days on email to just a few hours on the messaging app.
5. It's more consistent 
Some queries in customer service may take more than one response to resolve. Imagine the back and forth of messages every time a complex query comes in; and each response then gets recorded as a fresh ticket on email. Tracking back to the conversation from one thread to another breaks the consistency with which you can deliver good customer service.
But when the customer service is on a messaging app like WhatsApp, the communication remains within one chat. Both you and the customer get to browse through the previous conversation with ease, bringing a more consistent experience to the conversation.
‍
Which platform should you use for customer service?
We're not saying you should ditch being available to customers on email. There are still going to be customers who choose to keep some conversations to emails instead of a channel that is more personal to them.
But now that consumers are choosing to even work using their smartphones, it makes messaging apps like WhatsApp more reachable, convenient and personal to offer a seamless customer service experience.
Don't believe us? It's time to run your own WhatsApp vs Email test on customer service to see what your audience expects from you.
Get started with using WhatsApp for customer service with Interakt today.