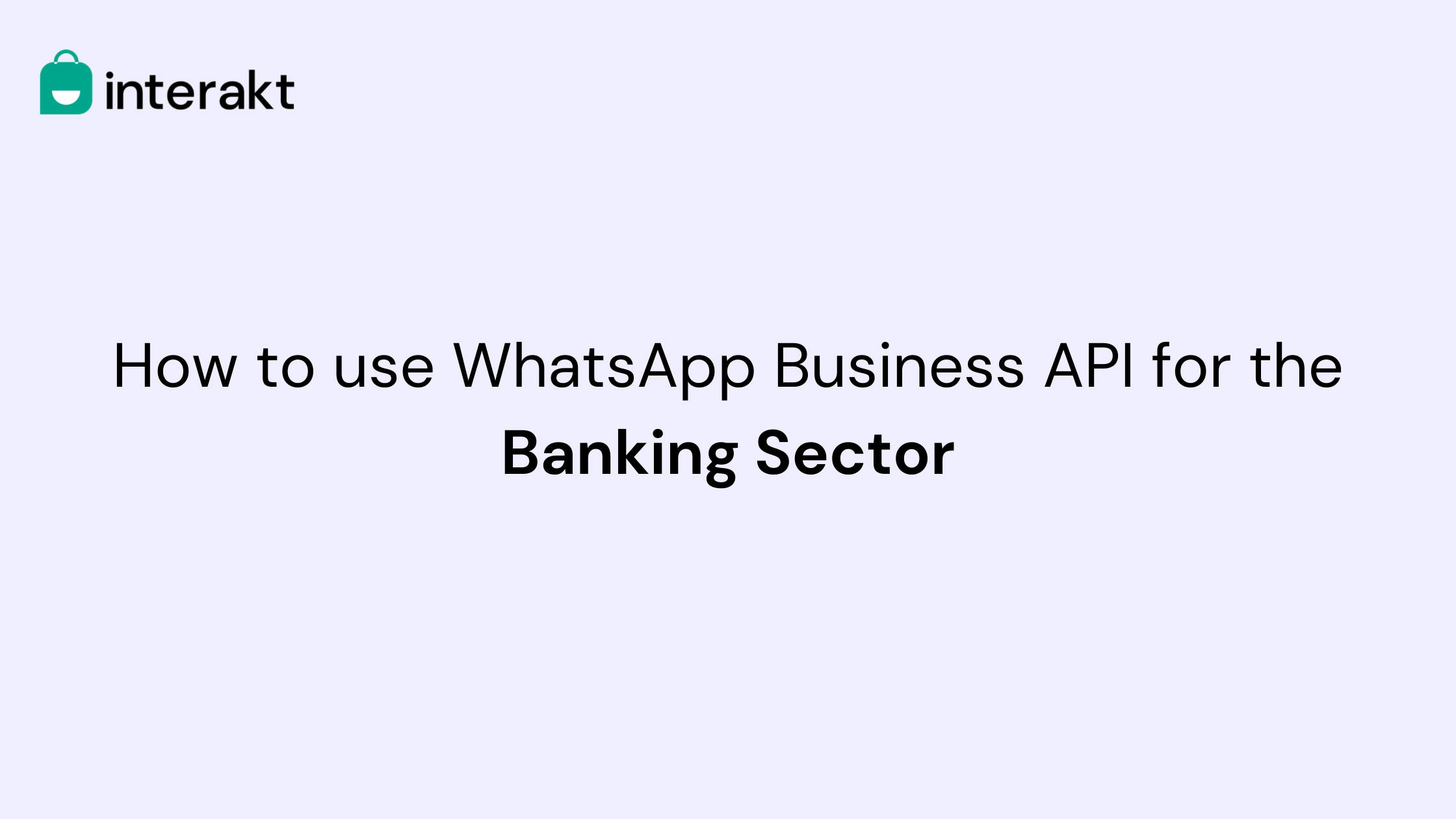 How to use WhatsApp Business API for the Banking Sector
WhatsApp Business is opening up new doors for businesses across all industries. From promotions to keeping customers engaged, the messaging platform has now become a go-to platform for most. The most recent addition to industries using the WhatsApp Business API being the financial sector. Here's taking a detailed look at using WhatsApp Business API for the financial sector.
How is the Banking Sector Using WhatsApp?
Using WhatsApp Business Platform, banks can connect with thousands of agents to interact and communicate with customers both manually as well as through automation.
Most banks use a third-party business solution provider like Interakt, to unleash the full potential of WhatsApp Business API. On their servers these solution providers give out tools and protocols for these banks to facilitate their functioning across the customer journey, keeping in mind the security they need to offer.
‍
1. Improved Customer Experience and Support
Rising expectations for better customer experiences in retail banking is increasing. Focusing on optimized customer experiences is now a necessity for growth in the financial sector. WhatsApp has become a proven way for meeting these rising demands.
With smart automation and FAQs set up using the WhatsApp Business API, better data collection and integrations, banks can depend on WhatsApp to provide instant personalized customer services and support.
Right from allowing customers to check Account Balance, find local ATMs and much more, you can do it all on WhatsApp.
‍
2. Personalized Customer Onboarding
Secure conversational medium is a needed feature in the financial sector to connect with buyers. WhatsApp Business API can be used to start potential conversations with prospective customers who might be approaching to apply for a loan or who might be visiting the website for policy purchase.
Businesses can guide their prospective customers through the process and procedure and bring them onboard easily through a simple WhatsApp chat.
‍
3. KYC Updates 
In financial sectors and banking, when we talk about onboarding, document submission, validation and other procedures, KYC becomes the most critical part of the process. The KYC process could run into obstacles and most customers drop off when faced with any issues in getting their KYC done.
With traditional conversational methods, this particular problem occurs now and then, putting off potential customers. WhatsApp Business API platforms are a great alternative here, allowing banks to simplify the entire documentation procedure for customers and send them their KYC documentations via WhatsApp messaging.
‍
4. Prospect Follow Up 
WhatsApp Business API provides an excellent way to engage with high-quality leads and follow-up their prospects to nudge towards completing the onboarding process. Right from when a customer starts a WhatsApp conversation with you, their name and phone number is automatically picked up.
After picking up the prospects' contact info, you can move them to the qualification stage where just a simplified WhatsApp business notification will be able to convert prospects into customers.
Benefits of using WhatsApp Business API in financial sector
1. Secure Conversation
Every call you make or message you send on WhatsApp are end-to-end encrypted. So, the conversation can be heard/read only by the bank and the customer.
Further security protocols can be integrated, like requiring customers to authenticate themselves before carrying out payments, transfers and other functions with the help of WhatsApp Business API solution providers.
2. Better Innovations 
WhatsApp Business API allows banks to bring more innovations into the field. They can work with a network of third-party service providers and build products more strategically, rather than start from scratch.
This way banks can partner-up with other fintech companies to offer innovative banking solutions.
3. Improve Revenue Gain
Using a conversational medium like WhatsApp has proven to increase revenue growth by 25%. With a more personal and effective approach in building customer relations in baking, this does not come as a surprise.
4. Increase Efficiency
Customer support teams can become more efficient while using WhatsApp. This can be achieved by automating FAQs, resolving queries, and providing better customer support than traditional channels can provide. By reducing dependency on calls for customer service this will also free up valuable human resources. And a conversational approach in banking can resolve issues much faster now.
Conclusion
Leveraging the various capabilities of WhatsApp's intuitive platform in addition to the WhatsApp Business API, the banking and finance sector can simplify customer journeys and make them more efficient.
Ready to explore the WhatsApp Business API for the financial sector? Sign up for Interakt today.