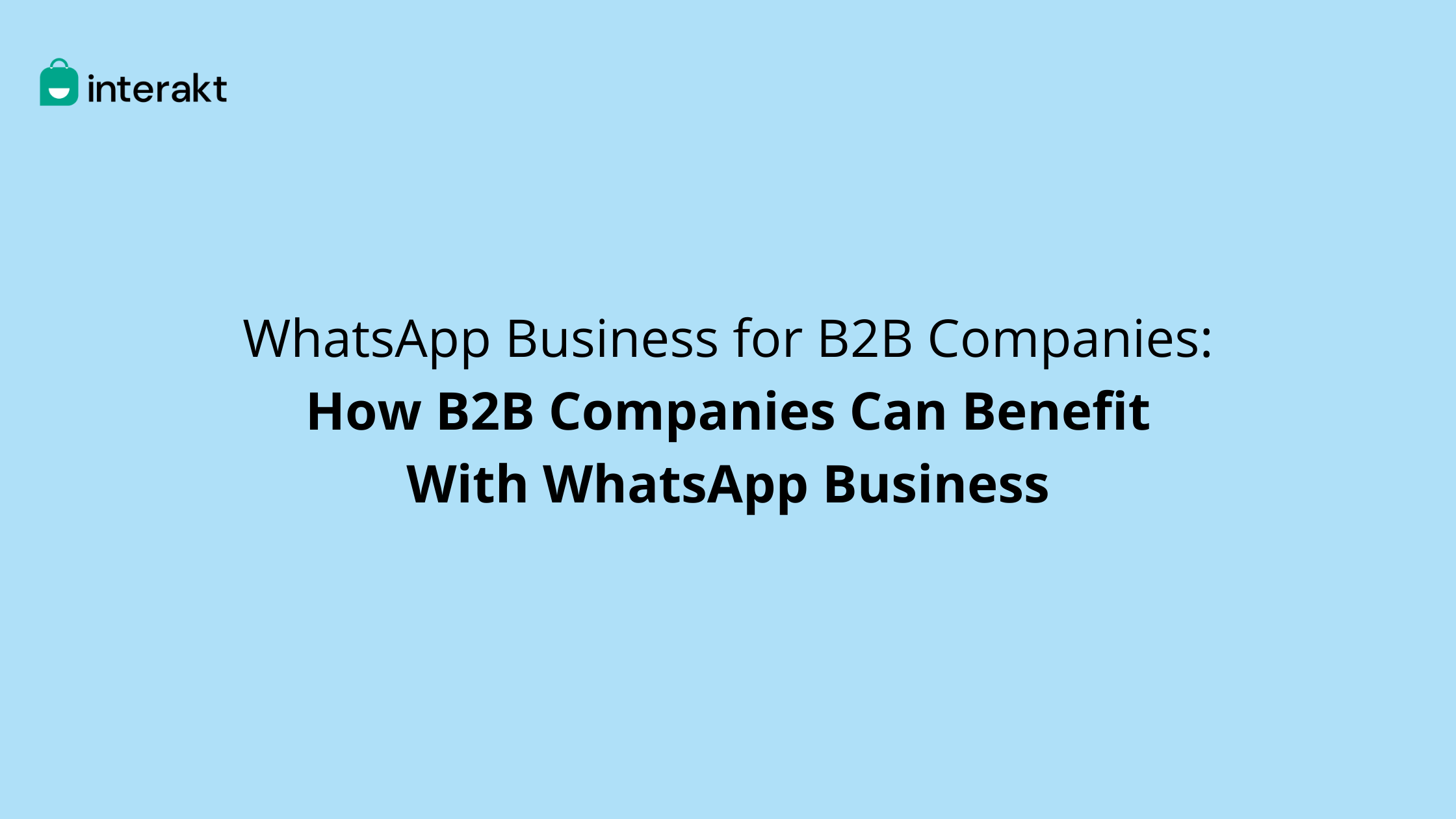 WhatsApp Business for B2B companies: How B2B companies can benefit with WhatsApp Business?
WhatsApp for Business has been gaining popularity across all industries for simplifying marketing, sales and support – in short, customer communication. The most recent to be added to the list being B2B companies.
Typically, B2B companies have a longer marketing and sales cycle, followed by extensive post-sales support and service.
Traditionally, this industry makes use of channels like email to be able to book discovery and demo calls with prospects. They then use automations to set follow-ups with each of their leads, sometimes doing so manually.
But imagine having to wait for a prospect to open an email. Or from the recipient's standpoint, going through a long email chain.
If you ask us, both the scenarios are a no-no and that's why it's time for the industry to start leveraging more conversational channels like WhatsApp.
With WhatsApp Business API available to businesses, we see a lot of potential for this messaging platform in the B2B industry.
Let's take a look at some of the benefits of using WhatsApp for B2B businesses, and how it can be put to use across departments.
Benefits of using WhatsApp for B2B businesses
‍
• Widely and commonly used
With over 2 billion monthly active users, it's safe to say that almost everyone is using the messaging platform. No matter who your B2B business is targeting, your prospect is most likely using WhatsApp already. So you don't have to get them comfortable using another channel to communicate with you.
‍
• Easy to cut through the noise
There are 333.2 emails being sent and received every day; no wonder your follow-ups are not responded to. That's where WhatsApp helps you get noticed.
‍
• More human
‍B2B marketing and sales cycles tend to take a very robotic approach. But with consumer behavior changing, it's becoming important to bring back a human touch to it. That's where WhatsApp's native capabilities to make things conversational comes handy.
‍
Different ways to use WhatsApp for B2B businesses
• Prospect follow-ups: When you're generating leads, you can collect phone numbers from prospects too. And with due permissions, you can send them follow-ups on WhatsApp to gauge interest in the products/ services you offer.
‍
• Prospect qualification: During the follow-ups, you can also use the WhatsApp Business API to set up interactive messages and FAQs. Using the answers, you can qualify the prospects further and prioritize your time and resources accordingly.
‍
• Product demos: Take a look at how B2B companies usually approach booking a time for product demos on emails; there's a lot of back and forth of messages. But with WhatsApp, you can offer on-the-go demos using the multimedia feature or video calls. This saves both your time and the prospect's, nudging them further down the sales cycle.
‍
• Lead nurturing: Using a WhatsApp Business API solution provider, you can label contacts in your list as per their stage in the sales cycle. You can then send targeted messages to nurture these leads with more information about your products/ services.
‍
• Content distribution: Once a B2B prospect converts, they're unlikely to return to the website to consume content. This may result in them missing out on important information or valuable content like industry benchmarks, case studies and reports. Using the WhatsApp Business API, you can set up broadcasts to distribute your content to segmented contact lists.
‍
• Send invites to webinars/ events/ conferences: Similar to using WhatsApp broadcasts for distributing content, you can also use the messaging app to promote events. Using interactive messages, you can share multimedia files like images and videos to give glimpses into the event, and use the CTA button to lead them to a sign up landing page.
‍
• Run cross-promotions: As a B2B company, you're probably working on adding new features and services to your value proposition. If you have established WhatsApp as a communication channel between the company and your customers, you can send personalized upsell/ cross-sell messages to users.
‍
• Offer real-time support: Another handy way to use WhatsApp for B2B companies is customer support and service. More often than not, B2B products/ services require set up assistance. With WhatsApp Business API, you can set up list messages, FAQs and other interactive message formats to address customer concerns faster.
‍
• Request feedback: You can also use WhatsApp to collect customer feedback and reviews. Since the channel is more conversational, customers are more likely to share their insights.
Conclusion – It's time for B2B companies to leverage WhatsApp for Business!
With the increasing need for human to human marketing and complex sales cycles, B2B companies need to look into simplifying communication with prospects, leads and customers.
WhatsApp offers a more intuitive way of engaging with prospects on a medium that they're more likely to be active on every day. But companies will still need to adhere to the best practices of B2B marketing, sales and support:
1. Always take permission to message on WhatsApp
2. Segment your customer lists based on interaction/ sales cycle stage/ other parameters
3. Keep your messages personalized
4. Focus on adding value at all times
5. Keep your messages crisp and clear
6. Define your call-to-action clearly
7. Leverage all WhatsApp Business features
8. Monitor and measure the impact of campaigns
9. Optimize campaigns regularly
‍
Ready to explore how B2B companies can use the WhatsApp Business API? Book a demo of Interakt today.