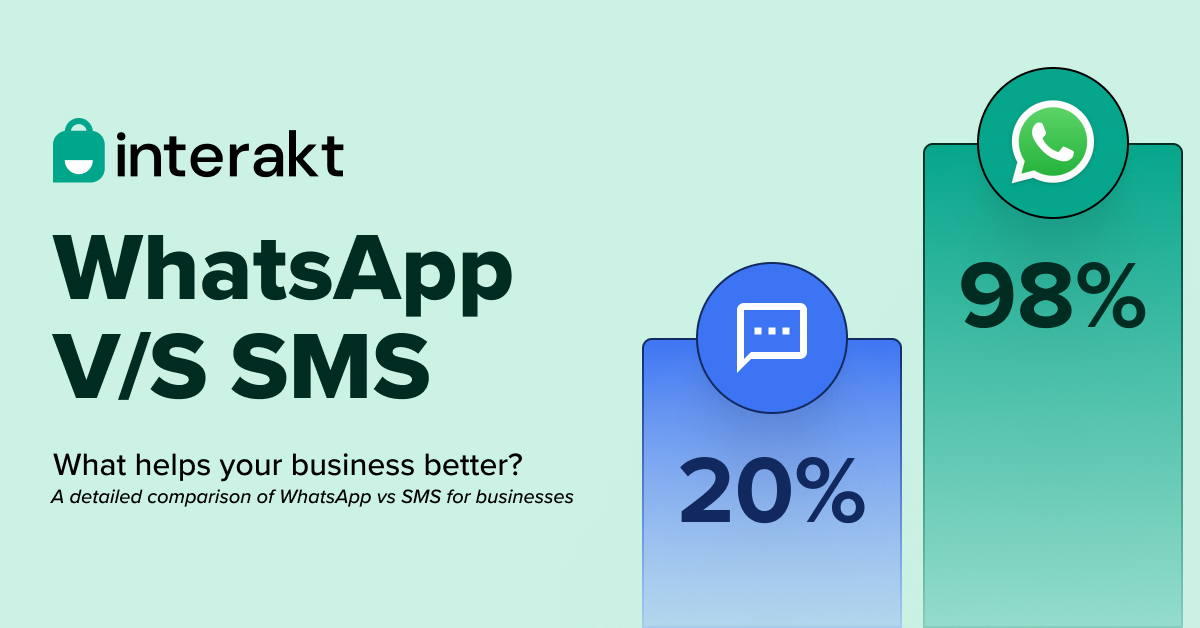 WhatsApp VS SMS: What helps your business better?
SMS marketing continues to gain popularity across different industries due to its effectiveness in reaching a wide audience instantly. However, with the emergence of messaging apps like WhatsApp, businesses are now presented with another channel to reach their customers.
As a business owner, choosing between the two platforms can be a daunting task, especially when both have their own benefits. But fear not! 
In this article, we'll give you a comprehensive comparison of WhatsApp vs SMS marketing to help you select the right platform.
What is WhatsApp Business?
WhatsApp Business is a version of the popular messaging app, WhatsApp, designed specifically for businesses. Businesses can easily create a profile with core information like address, hours of operation, product catalogs, etc. Moreover, WhatsApp Business comes with features like automated messaging, which helps effectively communicate on the platform customers already use. 
In addition to the same, Meta has also rolled out the WhatsApp Business API which can be used alongside solution providers like Interakt to create a complete eCommerce experience on the messaging platform. 
What is SMS marketing?
SMS marketing or text message marketing is a way for businesses to send promotional messages or alerts to customers' mobile devices through text messaging. Businesses use it to send special offers, discounts, product updates, the latest product announcements, and other types of promotional messages to customers who opt-in for the same. The primary reason behind its preference is that messages have a high open rate and are often read within minutes of being received. 
What are the advantages of SMS marketing?
Let's now look at some advantages of SMS marketing to see if it's worth your time and money.
Suitable for time-sensitive information
Most SMS messages are typically read within a minute, making them suitable for time-sensitive information like appointment reminders, exclusive discounts, and sale notifications. 
Whether you're a retailer promoting a flash sale, a healthcare provider reminding patients of an upcoming appointment, or a travel company sharing updates about a delayed flight, SMS marketing remains effective in prompt communication. 
A cost-effective way of communication 
SMS marketing is one of the most cost-effective forms of marketing communications compared to other traditional methods like TV and print ads. With low setup and running costs, you can easily reach a wider audience without breaking the bank. Therefore, it remains suitable for businesses targeting a wide audience but having a limited budget. 
Easy opt-in and opt-out help reach the right audience 
As a business, you always look to promote your products and services to interested people. SMS marketing allows you to do the same with easy opt-in and opt-out. Customers who no longer wish to receive updates from your business can quickly opt-out by replying with a simple keyword. 
WhatsApp vs SMS marketing: Which one should you choose?
Now we know that both WhatsApp and SMS marketing have their unique advantages. Let's dive in and explore the significant differences between these two powerful marketing channels. 
1. Features additional to plain text messaging 
When it comes to reaching and engaging with customers, WhatsApp marketing provides businesses with a wealth of features that SMS simply can't match. One of the most significant advantages of WhatsApp is its ability to facilitate group chats, allowing for seamless customer support, team collaboration, and other group discussions.
One of the most innovative features of WhatsApp is the ability to insert Google forms directly into your messages. This means you can easily create customized surveys and questionnaires that your customers can fill out in minutes. 
Here's an example of a personalized WhatsApp notification campaign directing users to a Google form to clearly mention their preferences: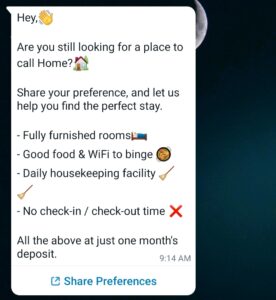 WhatsApp Business also allows you to share live locations and different file formats, such as PDFs and Docs, and even conduct direct voice or video calls. These integrated options create a more immersive and engaging customer experience.
While SMS marketing doesn't require customers to install additional apps, it falls short regarding features. The limited character count and minimal options make it challenging to build strong connections with customers.
2. Safety: End-to-end encryption or cellular networks
WhatsApp's end-to-end encryption thrives when communicating sensitive information like account details or personal info. It means that when you send a message to someone, only you and that person can read it. No one else, including WhatsApp, can decrypt the message, making it a secure form of communication. 
This also holds true for WhatsApp Business accounts where the conversation includes sharing product details or placing an order, creating a secure transactional interface.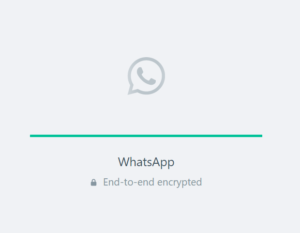 SMS marketing remains secure, too, as the messages are sent directly to the customer's phone number and do not require any additional app. However, there's always a risk of hacking, and sensitive information like passwords or account details can fall into the wrong hands. 
Another critical aspect is that people are likely to become victims of scammers pretending to be businesses with SMS. On the other hand, WhatsApp Business API helps businesses prove their authenticity with a green tick. 
3. A cost-effective way of communication
Most SMS marketing services will provide flat rates per message, and businesses can easily send bulk messages. However, the cost varies based on many factors like the type of messages sent, volume, geographical location, provider etc. 
While SMS marketing may be more cost-effective than WhatsApp for large-scale marketing campaigns, it's important to note that WhatsApp's new charging model model, set to take effect on June 1, 2023, could level the playing field. Businesses will now be charged per 24-hour conversation, varying rates across conversation categories.
This means that businesses will have to be more strategic in using WhatsApp for marketing purposes, focusing on engaging with customers in a way that encourages ongoing conversations rather than just one-off messages.
4. Multimedia messaging: Knocking the inbox with compelling content 
Regarding multimedia messages, WhatsApp has a clear advantage over SMS marketing.
With WhatsApp, businesses can send multimedia content such as videos, images, audio files, voice notes, and detailed documents. On the other hand, SMS is limited to simple text messages with 160 characters per message. Due to this, WhatsApp business broadcasts have a higher engagement rate when compared to SMS broadcasting. 
Now, if you are worried that your well-drafted message will get attention, let's burst that bubble. In a recent study that targeted 100 countries to analyze the most popular messaging apps, WhatsApp ranked 1, with 63 countries prioritizing it for communication.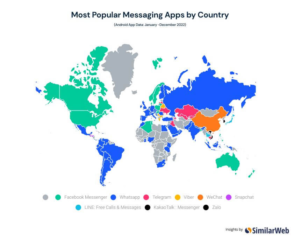 5. Room for personalization 
Personalization is the key when it comes to increasing conversions with message broadcasting.
Now can you create a personalized message with a character limit of 160? That's what you get if you opt for SMS marketing. On the other hand, WhatsApp allows you to send detailed product descriptions, offers, and announcements with a 4000+ character limit. On top of that, you can use rich media to make it more compelling. 
Now if we talk about results in terms of open rate, then WhatsApp dominates both SMS and email marketing combined. 
In addition to the above, if you are using a WhatsApp Business API solution provider like Interakt, you can integrate WhatsApp Business with the CRM to fetch more customer data for better personalization of campaigns. 
6. Reaching out to international subscribers 
As a business owner, there's nothing worse than crafting the perfect message with compelling offers and announcements, only for it to never be delivered. Unfortunately, this is a common issue faced by businesses relying on SMS marketing to communicate with international subscribers.
Cross-border restrictions can be a significant challenge for SMS marketing campaigns. Many countries have strict laws that prohibit unsolicited marketing messages via SMS, which can lead to increased costs and decreased effectiveness.
But with WhatsApp marketing, your message is almost guaranteed to be delivered. As long as you comply with the WhatsApp Business and Commerce policies, your message will be received with a deliverability rate close to 100%. This makes WhatsApp marketing a more reliable and cost-effective option for businesses looking to engage with international audiences.
7. Building strong connections 
When it comes to building strong customer relationships, WhatsApp marketing is a game-changer. Unlike SMS marketing which is typically limited to one-way communication, WhatsApp allows businesses to engage in personalized and interactive conversations with their customers. 
The two-way messaging combined with the ability to respond in real-time makes WhatsApp a preferred choice for businesses looking to build strong connections with their customers. 
At the end of the day, building strong customer relationships is more important than simply keeping customers updated with the latest offers. WhatsApp marketing helps achieve the same by providing a personalized and memorable brand experience that keeps customers returning for more. 
8. Target demographics
If you're looking to engage with younger audiences, WhatsApp marketing is a must-have in your arsenal. Younger audiences are increasingly turning to message apps like WhatsApp as their primary mode of communication, and businesses that use WhatsApp marketing can easily tap into this trend.
In contrast, older demographics may not be as comfortable with newer technologies and prefer more traditional communication methods like SMS. SMS marketing remains an effective way to reach this demographic, with the added benefit of being accessible even without an internet connection. 
Also know more on WhatsApp Vs Instagram and WhatsApp Vs Facebook
WhatsApp Vs SMS marketing: Make the right choice!
In conclusion, it's unfair to choose between WhatsApp and SMS marketing, as both cater to different audiences and have unique advantages. 
While WhatsApp is popular amongst younger demographics who prioritize personalization, SMS marketing remains effective in reaching older audiences who may not be comfortable with new technologies.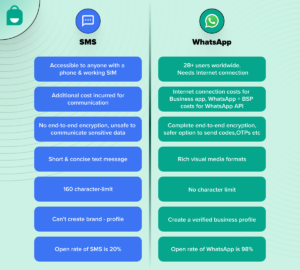 The good news is that businesses don't have to make a choice! 
Yes, you heard that right. 
You can leverage the strength of both channels and create a comprehensive marketing strategy. With the help of a WhatsApp Business API solution provider, businesses can seamlessly integrate both channels and make the most of them! 
So, whether you want to build strong customer relationships or promote time-sensitive offers, WhatsApp and SMS marketing can be used side by side. 
Want to know how? Book a demo with Interakt today!