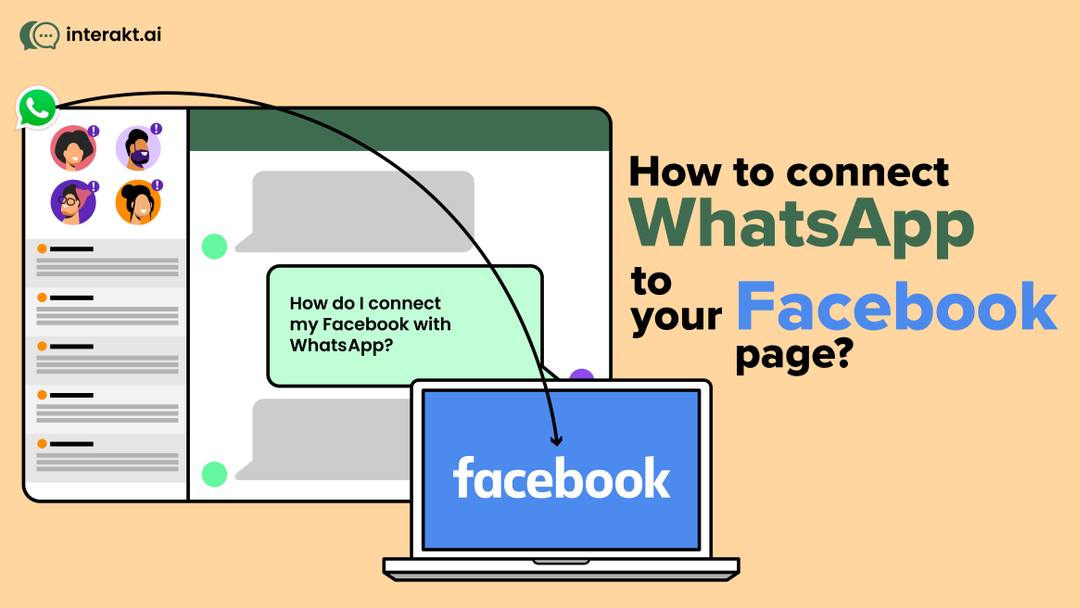 How to connect Facebook to WhatsApp: Step-to-step guide | Interakt
Many businesses, particularly the ones in E-Commerce, largely sell and market their products on Facebook. It comes as no surprise that Facebook has emerged as the go-to channel for businesses to improve their digital footprint, market their brand to local and global audiences and connect with prospective users. Setting up a Facebook page is more like creating a digital storefront for your business; allowing you to build awareness for your brand through constant engagement with the audience. The numbers speak for themselves – statistics show that more than 70% of users across the globe visit a local business's Facebook page at least once a week.
In addition, Facebook's concept of 'Groups' plays a major role in the success of small and mid-size businesses. It sets the platform for businesses to advertise their offerings and for customers to connect with the businesses.
Therefore, staying connected with customers should be the core objective of every business. One of the ways businesses can be in touch with their prospective customers is by connecting their Facebook to WhatsApp Business Account. But, how does it work? Can all users connect Facebook to WhatsApp Business API number as a button? We'll answer your questions in this article.
How to connect Facebook to WhatsApp Business API number on Android or iOS?
Ever since WhatsApp became a part of Facebook, businesses can do WhatsApp Marketing with WhatsApp API and now have the opportunity to connect Facebook to WhatsApp Business accounts. This makes it easy for customers to communicate with them. On the other hand, this is an excellent lead generation strategy for the former. They can run ads and enable prospects to start a conversation on WhatsApp in just a single click.
First and foremost, you'll need to create a Facebook page for your company. Next, set up your profile. Know how to go about it in our ultimate guide to WhatsApp business. This gives your business a branded profile and your customers will know exactly who they are talking to! With conversational commerce taking over, WhatsApp allows businesses to get on board with their two solutions – the original Business App and Business API version. Since the traditional app fell short to serve fast-growing businesses, the messaging giant rolled out a complete suite of solutions with the latter.
Once you have your business number, follow the steps explained below to add your WhatsApp number to your Facebook page.
Step 1: Navigate to the Facebook Business page. Log in as the admin of the page.
Step 2: Click 'Settings' under the 'Manage Page' tab on the left side.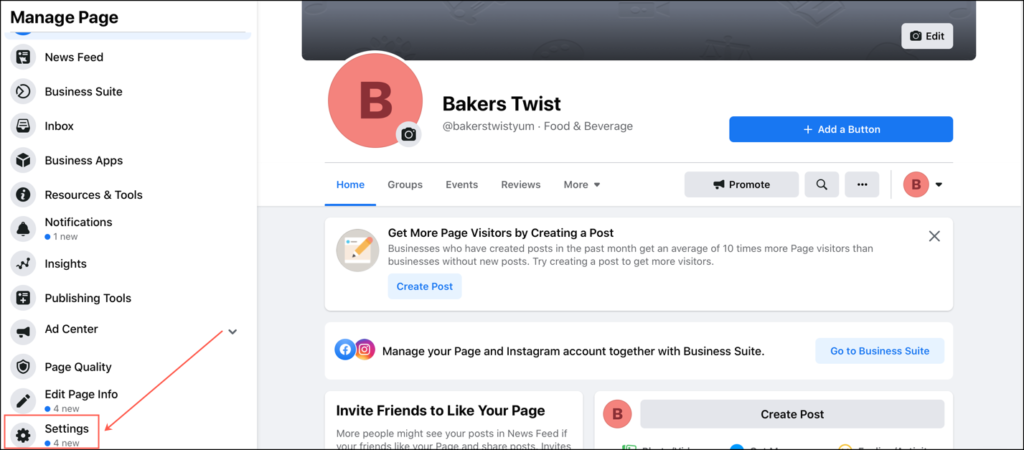 Step 3: In the left column under 'Page Settings', click 'WhatsApp'.
Step 4: Add your country code and click Continue.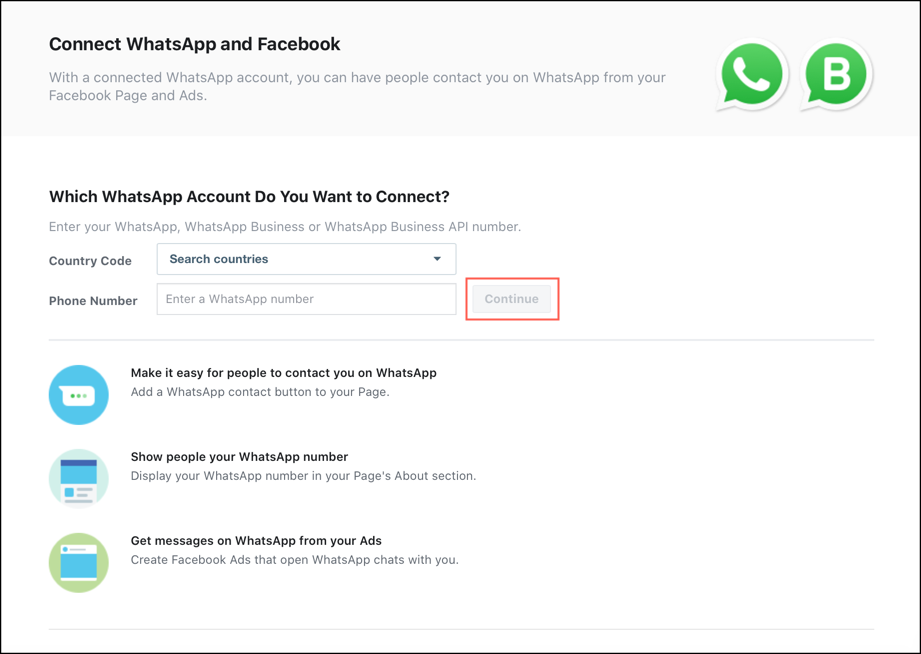 If you have newly created your business on Facebook, you will see a pop-up as the first step asking if you would like to connect your Facebook page and WhatsApp. You can add your phone number in this step directly or follow steps 1 & 2 to add your phone number.
Step 5: Enter the code that you received as a WhatsApp message in the number that you entered in the previous step and click Confirm.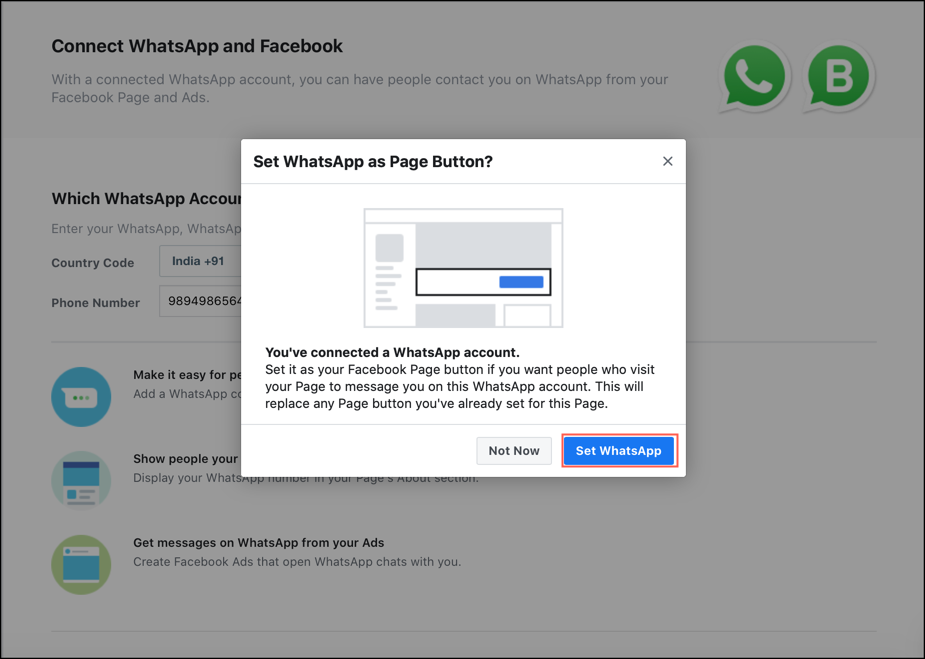 Step 6: You've now connected your WhatsApp account with Facebook. 
You can opt to set WhatsApp as your Facebook page button. Click the Set WhatsApp button. This will add the WhatsApp button below the cover image on the Facebook page. If you wish to do this at a later time, you can simply click "Not Now".
Once you set WhatsApp as your page button, it will automatically replace any other Page button that you might have set previously. After connecting your WhatsApp number with your Facebook page, you have options to:
• Use WhatsApp as an Action Button – by enabling this option, users can send messages to your WhatsApp number directly
• Show WhatsApp Business Number on Facebook Page – enabling this option will display your WhatsApp number in the About section of your Facebook page. People can easily find your business contact number if they want to reach your business directly.
This is how your WhatsApp button will be visible to your customers and users visiting your Facebook page. They can click on the button to start chatting with your business directly.
What are the benefits of adding Facebook to WhatsApp Business account?
Connecting Facebook to WhatsApp Business account has been a game-changer for small and medium-sized businesses (SMBs). Both channels together offer a whole range of benefits to both businesses and end customers. Some of the significant benefits of connecting Facebook to WhatsApp Business API are as follows:
1. Abandoned cart recovery with automated reminders & notifications on WhatsApp
2. Increased conversions by sending multi-product catalogs using WhatsApp Commerce
3. Tracking, managing, and responding to customers faster with the multi-agent shared team inbox
4. Confirming COD orders within a single click 
5. Sending timely & automated payments, orders & shipping notifications
6. Respond to messages faster with rich-media files, quick replies & pre-approved WhatsApp templates… & much more!
7. Centralized dashboard for WhatsApp and Facebook interactions
8. Respond to customer inquiries and messages using Quick replies & WhatsApp automation
9. Creation and management of automated responses.
10. Use of WhatsApp's end-to-end encryption for secure communication
11. Utilization of Facebook's advertising and targeting tools
12. Integration of WhatsApp with other business tools and systems.
Get Started with Interakt today
Don't miss out on the opportunity to boost your business by connecting your WhatsApp number with Facebook. Sign up on Interakt and get your WhatsApp Business API access today! Why? Because we have something very special for you! Get started with our 14-day free trial and experience the powerful features for yourself. If you decide to come on board with us before June 30th, we are even waiving off WhatsApp Notification charges for the first 3 months under our new Accelerator Scheme. Check our WhatsApp Business API pricing. So what are you waiting for? Get started with your free trial today!