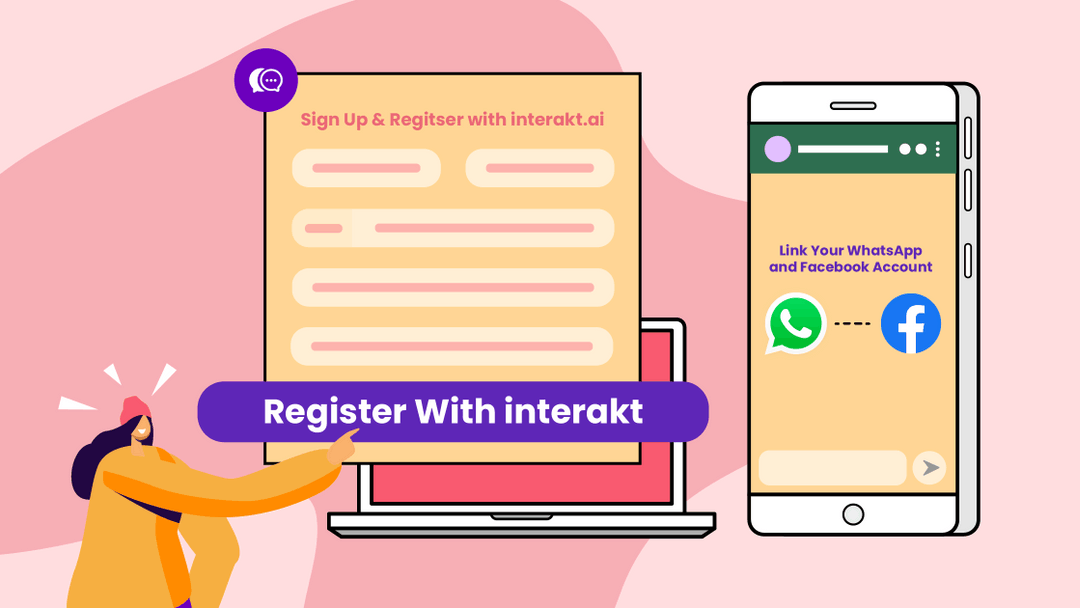 How To Get Started With WhatsApp Business API On interakt?
Over the last 10-15 months, WhatsApp Business API has made a significant impact on many businesses. One of the major areas of contribution has been customer experience! WhatsApp Business API has helped many small-to-medium businesses (SMBs) explore and enhance their customer experience, in turn giving them an edge over their competitors. There's more to it!
Think of it from your customer's perspective – the least a customer expects is to receive timely and personalized notifications on their mobile phone for, say, a purchase they made. On the other hand, the liberty of having a secure and reliable platform to ask questions about their purchase and receive instant support is definitely nice to have.
Recent studies show that approximately 43% of consumers around the world are willing to pay more for greater convenience. Imagine being able to offer that convenience and level up your customer engagement rates via WhatsApp? It comes as no surprise that growing businesses today are tapping into the rich capabilities that WhatsApp Business API has to offer.
Getting started with WhatsApp Business API on interakt
Guess we've convinced you enough to put your foot forward with WhatsApp Business API for your business. What next?
Your choice of a WhatsApp Business Solution Provider (BSP) or a Business Partner. Make sure you check out our article on who a WhataApp Business Partner is and how to choose one wisely.
interakt is powered by Haptik, a holistic conversational AI solution for businesses. interakt was built to help fast-growing businesses supercharge their productivity and leverage WhatsApp Business API for their growth.
Let's get down to the real deal now!
We'll now take you through the process of getting started with WhatsApp Business API on interakt. We'll also add in some commonly asked Q&As along the way to help you. Getting started with interakt is a 3-step process – sign-up with interakt, link your Facebook account with interakt and verifying the mobile number you want to use with interakt.
Step 1 – Sign-up with interakt
You can get started with a 14-day free trial with interakt. Sign up for the free trial by filling out some basic details about your business.
What features do I get access to during the free trial?
We want you to have the best experience right from the start. Therefore, during the trial period, you will have access to explore all the premium features on interakt.
Step 2 – Link your Facebook account with interakt
The entire process of linking your Facebook account with interakt and setting up the WhatsApp Business profile will happen on Facebook. You will automatically be redirected to Facebook to add these details. Don't worry! With self-service onboarding, you'll be able to sign up and get going in a matter of minutes.
Before getting started with this step, ensure you have the following things in place –
1. Legal business name, address of your business. Make sure you also have a display name that you want to use for your WhatsApp Business number.
2. Phone number capable of receiving an OTP for verification purposes
3. Facebook page for your business. You must be an administrator of the page.
We've put together a short video explaining the process of linking your Facebook account with interakt. In this step, you will create your Facebook and WhatsApp Business account, and set up a WhatsApp Business Profile.
Can I add a display name for my business that is different from my legal business name?
Yes, you can use a display name that's different from the legal business name. However, you need to make sure that your display name matches your brand name – ensure that you use the exact same spelling and case as used in your brand name. The display name should also be available to be verified publicly.
Select the checkbox (shown in the image above) and enter the website details that prove to show your business relationship with the display name.‍
Step 3 – Verify the number to be used with interakt
We're now at the last step! Provide the phone number and choose a verification method. You can opt for a text message or a phone call. Enter the verification code you received. Upon successful verification, your phone number will be linked to the WhatsApp Business profile.
Can I use my existing WhatsApp number?
Yes, you can use a number that is already linked to a WhatsApp account. However, you will need to first delete the account linked to that, prior to onboarding with interakt. We recommend that you use a fresh number that is not linked to any WhatsApp account.
Heads up: Post the OTP verification, once you connect the number with interakt, it will remain a WhatsApp Business API number, exclusive to interakt. This number cannot be later used by any of the other products of WhatsApp, namely the WhatsApp standard account (personal account) or the WhatsApp business account.
Can I use a virtual number for verification purposes?
Yes, you can use any number (virtual number or SIM number) that can receive an OTP.
Congratulations! You are now all set to start using interakt's 14-day free trial and explore the rich in-built messaging and notification capabilities. You have different ways to start sending messages using interakt.
• Scan the QR code shown on the confirmation screen. This will open WhatsApp with a pre-filled (test) message. Simply hit the 'Send' button to see how the message will appear on interakt's Shared Team Inbox.
• Add your WhatsApp Business number as a contact on your phone and send a WhatsApp message to this number
• You'll see a customized Wa-me link on the confirmation screen. Click the link to directly open WhatsApp.
Can I start sending unlimited messages to my customers after signing up for interakt?
While your interakt registration process is complete, your Facebook Business Verification is still pending. This process takes anywhere between 3 business days to 4 weeks to get completed. During this period, there will be some messaging restrictions to your account. Facebook does this to ensure they are accepting genuine businesses to keep the messaging community spam-free. You can still continue to use interakt and take advantage of the time to explore the powerful features during the 14-day trial period for FREE. Once your business is verified, you can start sending unlimited messages to your customers.
How many messages can I send or receive during the verification period?
During the time when your Facebook Business Verification is pending, you can only chat with 10 unique users per day. However, there is no limit on receiving messages from your customers. You can also trigger notifications using sample WhatsApp templates to only 2 unique users within a 24-hour period. These restrictions will be removed once your Facebook Business Verification process is complete.
Want to know in detail about the Facebook Business Verification process? We've got you covered there too! Check out our detailed guide covering the entire application process, approval process, handy tips and recommendations.
Supercharge your customer support experience today with interakt
Ready to make a shift in the way you interact with your customers? Get started with interakt's 14-day Free trial. There's also something more irresistible for you! If you decide to come on board with interakt before June 30th, we are giving you additional benefits. As part of our Accelerator scheme, we'll waive off the WhatsApp notification charges for the first 3 months. Check out our interakt WhatsApp Business API pricing model and get started with interakt today.