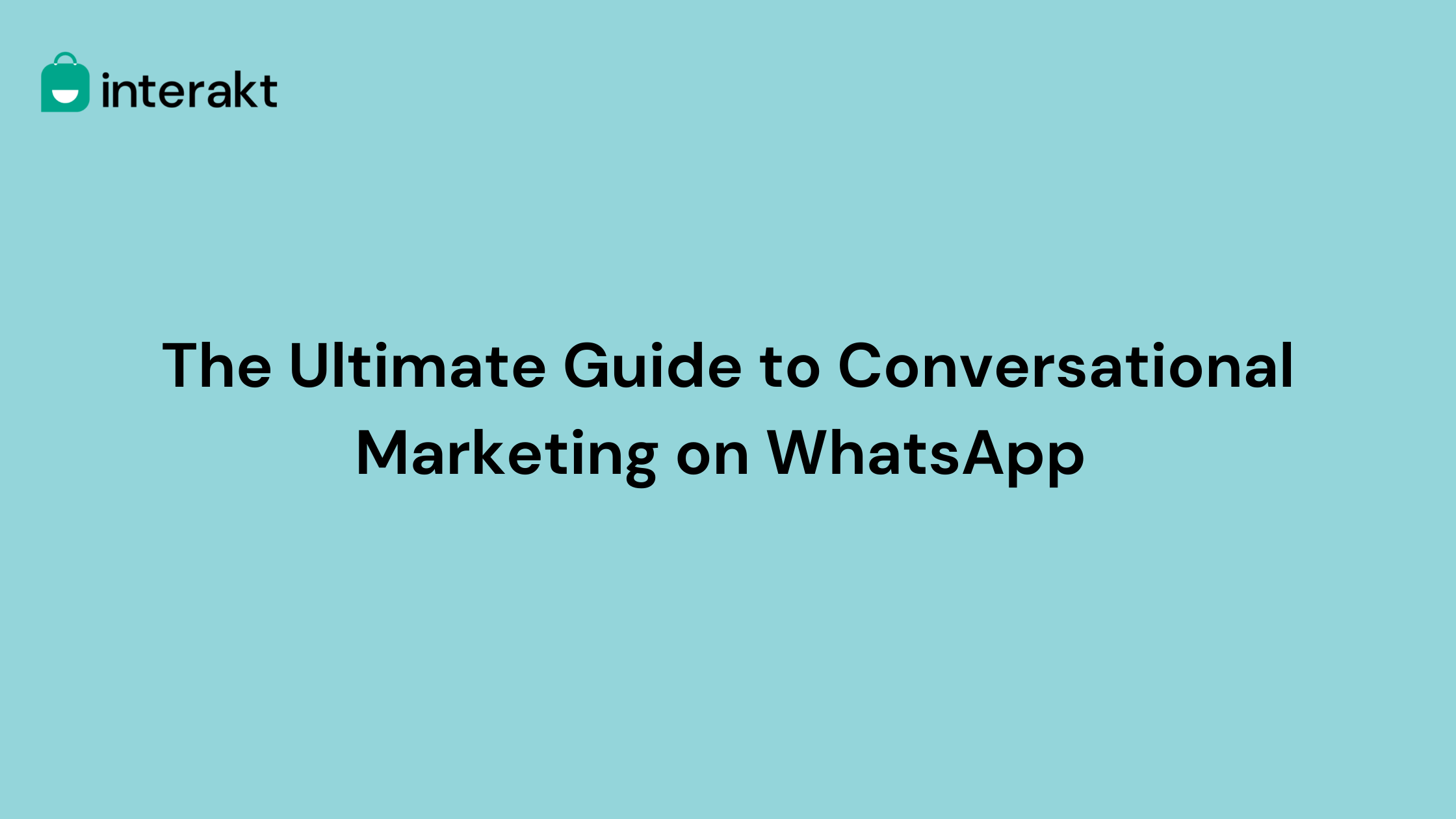 The Ultimate Guide to Conversational Marketing on WhatsApp
If you have been keeping up with ecommerce marketing trends, we're pretty sure you have come across two terms a lot lately – conversational marketing and WhatsApp marketing. And more than not, you would have seen them being mentioned in the same sentence owing to the nature of the messaging platform and the goal of the marketing strategy.
So in this blog, we're going to share how you can get started on conversational marketing with WhatsApp Business.
What is conversational marketing?
Conversational marketing refers to a one-on-one approach to marketing wherein a business reaches out to consumers to strike meaningful conversations, helping them make an informed purchase decision faster. It is a strategy that replicates the in-store conversation with a salesperson on a digital medium, helping ecommerce businesses shorten the sales cycle to convert online shoppers into customers.
A conversational marketing strategy consists of the following characteristics:
1. Two-way communication: Conversational marketing is focused on bridging the gap between the buyer and the seller. Instead of the usual one-way promotions on other channels like SMS and email, the goal here is to engage and open a conversation and then use that as an opportunity to guide the buyer towards making a purchase.
2. Real-time: A good conversational marketing strategy leverages smart automations to enable businesses to reply in real-time to consumers. It is often complimented with a customer support team that can look into more complex queries from consumers.
3. Customer Centric: Conversational marketing approaches customers keeping their benefit in mind, contrary to a traditional, sales-driven approach. The idea here is to understand their needs and guide them towards a purchase, instead of pushing for direct sales.
4. Natural: Conversations come naturally to humans. This marketing strategy taps into the inherent need of communication amongst humans to establish relationships with them.
Owing to the characteristics of conversational marketing, the strategy is best executed over channels that are naturally meant for the same. This is where WhatsApp comes in.
What is conversational marketing with WhatsApp Business?
With the WhatsApp Business API now accessible to businesses, brands are taking their conversational marketing strategy to a platform that is used more actively by their consumers – WhatsApp.
So far, the messaging channel was being used for personal communication by consumers, or for broadcast one-way promotions from businesses using bulk senders. But the API now unlocks a set of features and capabilities that can bring back 'conversations' to the messaging app.
Conversation marketing with WhatsApp Business essentially refers to using the WhatsApp Business platform with the help of a solution provider to converse with buyers at different stages of their shopping journey.
This may include support, marketing and promotions, sales campaigns to nurture customers and keep them engaged with the brand.
How to use WhatsApp for conversational marketing?
1. Leverage it to offer shopping assistance and customer support

Most customer support conversations are not timely in nature. With the number of options available to a buyer, it's easier for a consumer to drift away from your brand if they don't find the information they need to make a purchase.
With WhatsApp conversational marketing, you can offer proactive shopping assistance with the help of automations around FAQs and real-time conversations with live agents when required. Having a WhatsApp Business API solution provider here that offers a shared inbox further helps leverage conversational marketing for customer support.
‍
2. Drive more engagement on your WhatsApp broadcasts 
Usually most promotional broadcasts are one-way communication. With WhatsApp conversational marketing, you can encourage engagement on broadcast campaigns by leveraging interactive messages or simply generating curiosity around the announcement you're making.
Engaging 1000s of opted-in customers on your WhatsApp broadcasts can help you drive more conversions on campaigns around sales, discounts, new launches and more. And it's easy to set up with the help of automations using a WhatsApp Business API solution provider.
‍
3. Nurture buyers into making purchases

You're always going to have a segment of consumers who actively buy from you and those that may not have engaged with any promotions in a couple of months. You can create independent conversational marketing strategies to re-engage these shoppers with personalized campaigns.
You can use the two-way conversations to get to know them better, guide them towards making valuable purchases or understand their expectations and why they may have moved away from your brand.
‍
4. Strike conversations on post-purchase automations 
Using the WhatsApp Business API, you may have automated post-purchase communication likek order alerts. But you can go one step further and tap into the power of conversational marketing by using the opportunity to re-engage the customer and entice them into taking a desired action.
For example, you can use the conversation to ask for feedback, product reviews and ratings, or even nudge them into exploring products that compliment the purchase they have just made.
Conversational marketing on WhatsApp Business can be used in a number of ways; but there are a few tips you need to keep in mind when running campaigns.
Tips to have more natural conversations on WhatsApp
‍
1. Keep it simple and natural 
Rule number one of conversational marketing on WhatsApp is to blend in. WhatsApp users are actively using the platform to have conversations with their friends and family, and you don't want to stand out like a sore thumb.
Make sure your WhatsApp marketing messages are the right mix of formal communication with formatting, emojis and sentence framing (short sentences) that are more suited for the messaging platform.
‍
2. Personalize your messages 
Consumers still choose to interact with businesses that personalize their communication on all fronts. This is where using a WhatsApp Business API solution provider like Interakt comes in. It helps you run parallel campaigns on segmented lists, and also add elements like the first name to your broadcast messages, adding a sense of personalization to even your promotions.
‍
3. Leverage automations 
The trick to keeping conversations going is to reply in real-time. But unless you have someone manning WhatsApp every minute, that's not possible and you're soon going to lose track of conversations as well. That's where leveraging automations with the help of a WhatsApp Business API solution partner comes in. From broadcasts around upcoming sales, order status alerts, shipping and delivery information, return/ exchange policies and more, you can reply to them all instantly by setting up custom replies.
4. Ensure seamless hand-off 
Conversations can take surprising turns and you need to be prepared to step in where automations don't work. Make sure you're backing your conversational marketing strategy with a WhatsApp Business API solution that enables easy hand-off by notifying you of conversations proactively. The trick is not to miss out on answering the hard questions.
5. Use interactive messages 
If you want to drive more conversations, you need to make it simpler to chat with you. Customers don't like typing out long messages and that may result in them dropping off from the conversation. That's where interactive messages like list messages and reply buttons can come in handy. You can set them up with the WhatsApp Business API, simplifying the back and forth of communication with consumers.
Examples of conversational marketing on WhatsApp
There are a number of businesses using conversational marketing on WhatsApp. We'll give you few examples from the ecommerce industry:
1. Nestasia 

Nestasia has been using a conversational marketing approach to assist its store visitors in making the right purchase. They leverage the WhatsApp Business API with Interakt, to keep multiple customer conversations going, nurturing each individually to drive more conversions and sales. Read more about it here.
‍
2. Hustlemad 

Hustlemad has been using conversational marketing across its buyer's purchase journey. They are leveraging WhatsApp broadcasts to promote their ongoing and upcoming deals, and using two-way communication with the help of Interakt, to nurture interested buyers into making purchases more actively. Read more about it here.
3. Carigar Tools 

Carigar Tools has implemented conversational marketing using the WhatsApp Business API. They use the strategy to not just offer timely customer support to their store visitors, but also personalize their follow-ups and reminders for existing customers. Read more about it here.
Explore more examples of conversational marketing on WhatsApp with Interakt.
Do you need conversational marketing on WhatsApp?
As per Meta, there are well over 175 million messages being sent to WhatsApp business accounts every day. The statistics imply that consumers are seeking more natural ways of connecting with businesses they want to engage with or buy from, and WhatsApp has become a channel of preferences amongst all demographics owing to its ease-of-use.
If you're running an online business, conversations with consumers are important to boost your brand recall, and with the WhatsApp Business API, you now have the ability to have these conversations at scale.
So yes, you do need conversational marketing on WhatsApp and it's easy to get started with as well.
‍
Ready to use WhatsApp for customer delight? Explore Interakt today.
Frequently asked questions about conversational marketing on WhatsApp
What is a conversational marketing example?

If you have ever reached out to a business account on WhatsApp and received a response almost immediately – be it automated or manual, it is a form of conversational marketing. There are a number of businesses running conversational marketing campaigns on WhatsApp as of today.
‍
Can WhatsApp be used for conversational marketing?

Yes, you can leverage the WhatsApp Business API with a solution provider like Interakt to set up campaigns and automations for conversational marketing. You can use WhatsApp Business API for customer support, marketing and sales at scale with a solution provider.
‍
How to use WhatsApp for conversational marketing?

To use WhatsApp for conversational marketing, you will need to set up a WhatsApp Business account. Furthermore, you will need to also get access to WhatsApp Business API to be able to set up automations across the buyer's journey. To get started with WhatsApp for conversational marketing faster, explore WhatsApp Business API solution providers like Interakt.