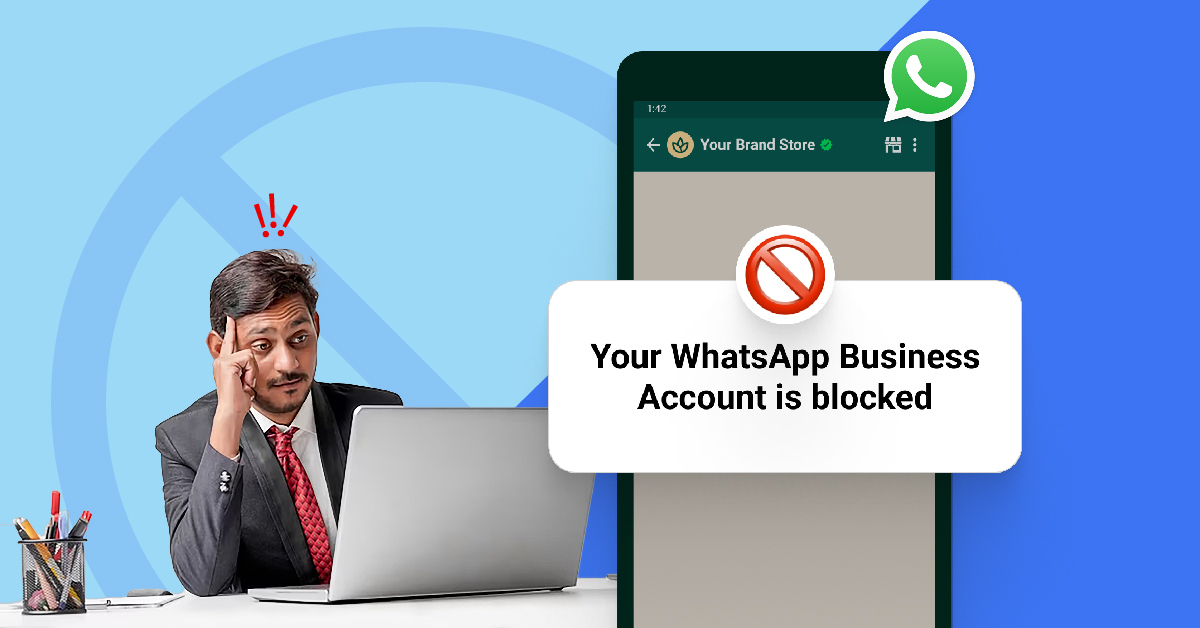 Blocked WhatsApp Account: Here is your power-packed guide on how to unblock it
Over 50 million businesses are leveraging the increasing popularity and vast user base of WhatsApp to enhance their marketing campaigns and customer support. However, with this rise in usage, some are encountering new challenges such as having their WhatsApp Business numbers blocked or banned.
This can occur when the numbers are found to violate WhatsApp's Business Policies and Terms of Service. There are other reasons why this may happen, including being excessively promotional or intrusive.
In this article, we'll explore the reasons behind WhatsApp's blocking or banning of business numbers, steps to unblock WhatsApp business accounts, and essential measures to prevent such incidents.
What does a blocked WhatsApp Business account mean?
A blocked WhatsApp Business account means that the business's account has been blocked by either its recipients or by the messaging platform itself. This usually happens when the business is reported for sending inappropriate or spammy messages that break the policies, regulations and restrictions set by WhatsApp. 
A blocked account will not be able to send WhatsApp business notifications and broadcast campaigns to their subscribers and customers. 
According to WhatsApp laid policies, your account can be blocked if you: 
Send too many unsolicited messages 

Send too many messages, pictures, or videos in a short amount of time 

Send the same message to many users with no response 

Engage in any abusive or illegal activity on WhatsApp
The WhatsApp account can also be temporarily suspended in various cases such as sending too many messages to unknown contacts, being reported by multiple users for sending spam messages or inappropriate content, or violating WhatsApp's policies and terms of service.
Why should you pay attention to a blocked WhatsApp Business account? 
A business should pay attention to not getting blocked on WhatsApp because getting blocked can result in a loss of business opportunities, credibility, and customer trust.
It can disrupt your marketing campaigns and customer support, leading to decreased sales and revenue. Furthermore, if WhatsApp permanently bans your business number, you may lose all the data and chat history associated with the account.
Further, 
Your customer support will break
If the business customer support team uses WhatsApp as a primary means of communication with their customers, the blockage of your business account will cut off this communication channel. This can lead to a decline in customer satisfaction, as customers may not be able to reach the business as easily or quickly as before disrupting the team's processes and reducing their overall efficiency.
Your ongoing campaigns will stop
If the account is blocked, the business won't be able to send messages to their customers through WhatsApp.
In such a scenario, the ongoing campaigns may be disrupted, and businesses may have to switch to other communication channels, such as email or SMS ( with less open & read rates), to continue their campaigns and keep their customers informed.
Your sales channel aka WhatsApp will shut off entirely 
WhatsApp is a popular sales channel for businesses, especially for small and medium-sized enterprises (SMEs) that use it to communicate with customers and process orders. If the account is blocked, the business won't be able to use WhatsApp to process orders or receive payments.
As a result, the business may lose potential customers who prefer to communicate and make purchases through WhatsApp.
The business may have to find alternative sales channels to replace the lost WhatsApp sales channel, which could take time and resources.
Why do WhatsApp business accounts get blocked? 
Your WhatsApp Business Account can get blocked for: 
Violating the rights of WhatsApp, its users, or others, including privacy, publicity, intellectual property, or other proprietary rights.

Engaging in illegal, obscene, defamatory, threatening, intimidating, harassing, hateful, racially or ethnically offensive activities or instigating or encouraging illegal behavior or inappropriate activities can lead to account blockage.

Publishing falsehoods, misrepresentations, or misleading statements can lead to account blockage.

Impersonating someone else can lead to account blockage.

Sending illegal or impermissible communications, such as incessant bulk messaging can lead to account blockage.
What to do when a WhatsApp business account is blocked?
If your question is how to activate my business WhatsApp account, here are the methods you can follow-
If you found your WhatsApp Business account blocked, 
Firstly you can review WhatsApp's terms of service and community guidelines to determine if you violate any of them and redeem them to unblock WhatsApp business accounts.
If you believe the block was a mistake, you can email WhatsApp Support Team at the address, [email protected] or tap request a review in the Business Manager and WhatsApp will look into your case. Alternatively, you can also reach out to your BSP, like Interakt, who can file a review request on your behalf with the WhatsApp Support team. WhatsApp usually takes 24-48 business hours to review and share the final decision. 
Once your account has been restored, you'll need to re-register your phone number on WhatsApp to revive your access.
Even after lifting an account ban, Meta can also reinstate the ban if the account continues to violate our Terms of Service.
We advise reviewing the "Acceptable Use of Our Services" section in the Terms of Service to understand how to use WhatsApp appropriately.
How to prevent getting banned on WhatsApp?  
While the above are some of the steps to unblock WhatsApp business account, it's even better to avoid getting your WhatsApp Business account blocked. 
Here are some key tips and best practices to avoid running into compliance issues and ensure a smooth experience with WhatsApp: 
1. Use the official WhatsApp Business API Provider 
WhatsApp Business API is a paid service designed for medium and large businesses to sell and support through WhatsApp. It offers advanced features such as automated messaging, seamless integration, and detailed metrics and analytics. Businesses can also extend their broadcasting limits from 256 contacts to 100,000 contacts using the WhatsApp API.
With the WhatsApp API, you can legally send bulk messages on WhatsApp and create personalized campaigns to serve the right people at the right time, improving your brand's credibility.
And that's not it.
You can maximize the benefits and functionality of your business by integrating your WhatsApp API with Interakt, a top-tier WhatsApp Business API provider. This partnership is a game-changer that can take your business to new heights!
With Interakt's top-notch features, businesses using WhatsApp can:
Collaborate efficiently with a multi-agent team inbox that includes conversation labels, private notes, and response and resolution time tracking.

Showcase up to 30 products with detailed descriptions, images, prices, and more, in a single WhatsApp message.

Boost their brand credibility by applying for the Green tick on WhatsApp alongside their brand name, with the help of Interakt.

Automate customer interactions with custom auto-replies for frequently asked questions, welcome/out-of-office messages, or delays during work hours.

Add free WhatsApp widgets to your e-store & collaborate with unlimited team members to offer customer support at scale on WhatsApp
2. Take WhatsApp opt-ins and organize customer data 
To minimize the risk of data loss, businesses should back up their data across multiple platforms instead of relying solely on WhatsApp.
With the WhatsApp Business API provider, you can easily store customer data in your CRM with smart integrations. This ensures secure capture, tracking, and storage of all interactions, even if there are any changes, deletions or temporary blocks on your WhatsApp Business account. 
And of course, it goes without saying that you need to take a WhatsApp opt-in before you even save a consumer's data. Once you have the opt-in confirmed, we also recommend segmenting them based on their interests, intent and previous interactions – much similar to how email lists work. 
3. Personalize your campaigns 
To avoid making WhatsApp marketing campaigns seem spammy, businesses can personalize their messages by addressing recipients by name, sending relevant content based on their interests, and using opt-in methods for receiving messages.
To further personalize WhatsApp marketing campaigns must be to segment your audience and send relevant content while limiting message frequency and providing value. Businesses should also use a conversational tone and encourage two-way communication to engage users and build relationships.
Conclusion 
Having your WhatsApp Business account blocked can be a frustrating experience for any business. It not only halts customer support but also disrupts ongoing campaigns and sales channels. However, businesses can take steps to prevent and unblock WhatsApp business accounts.
With the right approach, businesses can continue to use WhatsApp as a valuable marketing tool and provide excellent customer service to their clients.
Official WhatsApp Business API providers such as Interakt, empower businesses to automatically manage all regulatory and compliance requirements, ensuring their account remains unblocked while streamlining customer data, personalizing campaigns, and automating WhatsApp policy adherence.
Start your free trial of WhatsApp Business API today with Interakt. 
FAQs
Can you get blocked on a WhatsApp Business account?
Yes, you can. While WhatsApp has a system to automatically detect spammy accounts, another indicator that decides whether or not your account is to be blocked, is the number of reports ends recipients file. 
Why is my WhatsApp business account blocked?
WhatsApp business accounts can be blocked for spamming, sending excessive messages to non-subscribed users, using unauthorized third-party apps, sharing inappropriate content, or violating WhatsApp's terms and conditions.
How to unblock WhatsApp business account?
To unblock WhatsApp Business accounts, businesses can: Contact WhatsApp support, remove spammy content, limit message frequency, use official API providers, and adhere to WhatsApp's policies.