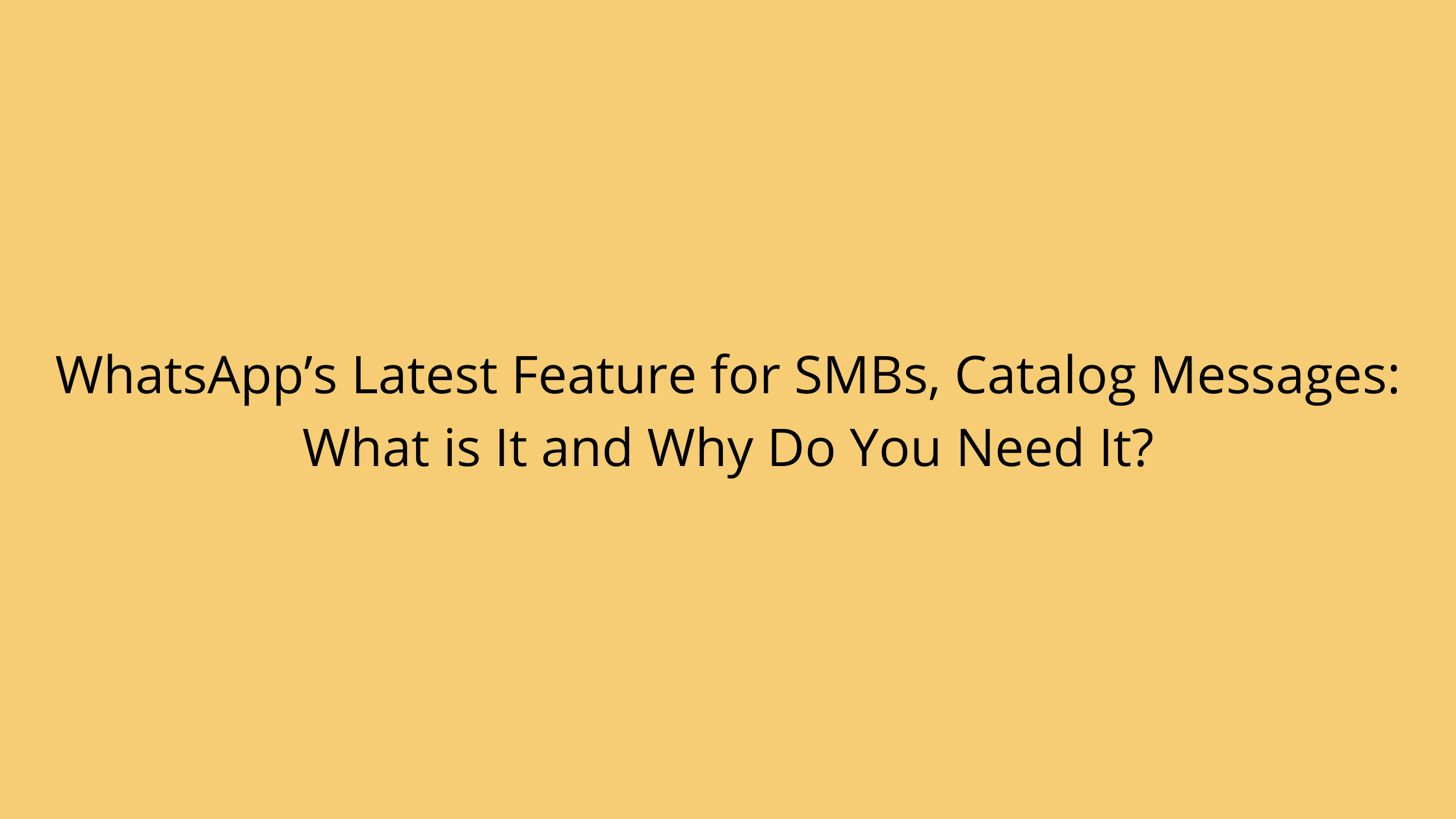 WhatsApp's Latest Feature for SMBs, Catalog Messages: What is It and Why Do You Need It?
With the COVID-19 pandemic last year, more and more people started shopping online. Consequently, businesses had to ensure that the online interaction was instant, easy, and powerful. Given WhatsApp's scale, it was inevitable that it would emerge as an important channel for such online commerce.
In its quest to improve the app and make it the preferred commercial channel among the SMBs, WhatsApp continued to reinvent itself and add new and interesting features for its users, one of the most popular updates being the WhatsApp catalog messages.
‍What are WhatsApp Catalog Messages?
WhatsApp Catalog messages enable businesses to showcase their products in the app. It makes it easier for customers to discover, select & place orders, and for small business owners to sell right then & there.
In the catalog messages, businesses can share the following information:
1. Product image
2. Product or service name
3. Price
4. Description
5. Website link
6. Product or service code
7. Discounts
Once the customer clicks on the catalog message button, all the products will appear listed, with a picture, name, description, and price. Customers can scroll through the product list, add them to their cart and share it with the business in the chat. After that, the latter can define the next steps, such as requesting delivery details and giving payment options.
‍Keep these 4 Points in Mind While Creating a Catalog Message
Previously, businesses had to share product images one at a time and repeatedly provide information, now customers can see their full catalog right within the WhatsApp chat. It makes it easier for SMBs to keep customers engaged in the chat without directing them to a website. The best part about this feature is that one single WhatsApp catalog message can include up to 30 products along with images, descriptions, prices, and more. So make sure you keep the following in mind while creating your catalog on Facebook Commerce Manager:
• Check the WhatsApp Commerce Policy
Make sure your product image, description, etc., meet the WhatsApp Commerce Policy. Check beforehand to avoid any surprises later.
• Select Your Product Pictures Wisely
Product images represent your catalog. They help customers make a purchase decision. Make sure that the pictures are of high quality and showcase your product properly
• Keep your description short and simple
Apart from the images, the description is the next thing that meets the eye. Make sure to only highlight what's most important. Leave out information such as the price since there is a separate place for that.
• Add a product code
Use a product code to keep track of the catalog items. It will provide insights into the popularity and sales of the products. To measure is to know!‍
Which type of businesses can use the WhatsApp Catalog Feature?
If you are a small business owner, Reading this is just the thing you need to boost sales and propel your business to the top. It enables you to showcase your product and sell them without having to spend money creating a website.
Why do you need WhatsApp Business API for sending catalog Messages?
You can send out WhatsApp Catalog Messages only if you use WhatsApp Business APIs. On the WhatsApp Business app, you can only share a link to your WhatsApp catalog, while WhatsApp Business API will let you send up to 30 products within a catalog message itself.
WhatsApp Business API also enables you to:
• Get your team to log in from multiple devices & manage WhatsApp conversations on a common number
• Send WhatsApp catalog messages to 1000s of opted-in customers by triggering a campaign
• Send catalogs as part of Auto-messages whenever a customer contacts you or whenever a customer abandons the shopping cart.
Given the dominance of WhatsApp Business in the e-commerce panorama, it hardly comes as a surprise that more and more SMBs are integrating it into their business operations. If you're one of them and want to explore the multiple benefits offered by WhatsApp Business API before making a decision, then sign-up for your 14-day free trial today!