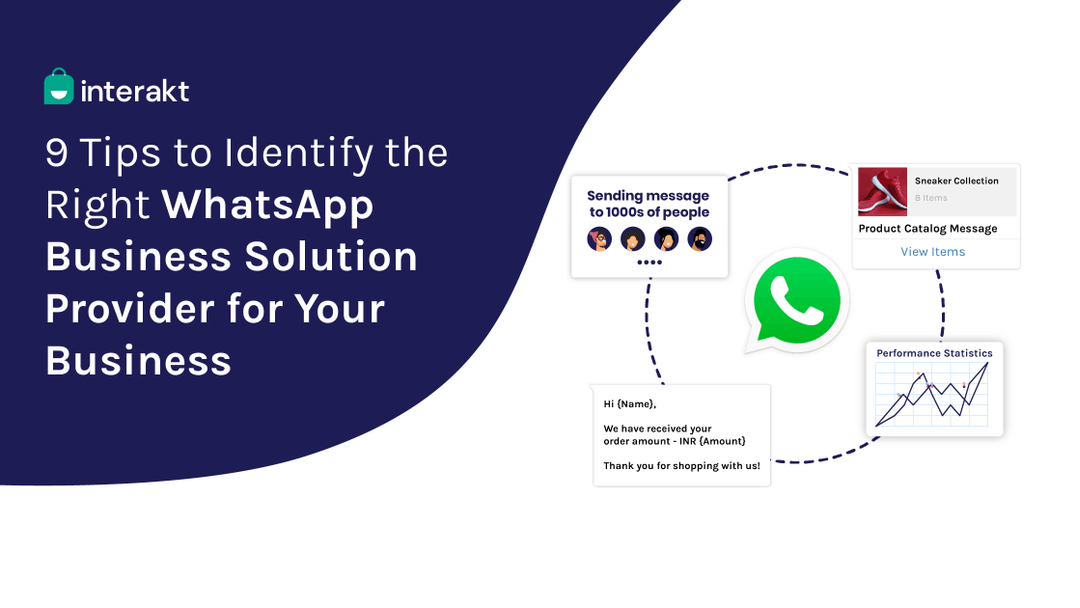 9 tips to identify the right WhatsApp Business Solution provider in 2023
WhatsApp has become an industry standard for engaging, converting, and supporting end-customers in the eCommerce industry today. Businesses of all sizes are leveraging the platform's capabilities to connect with their customers and keep them engaged, driving much higher conversion rates on their campaigns as compared to all the other channels.
But as they explore the different features of the WhatsApp Business Platform, brands are now on the lookout for WhatsApp Solution Providers that can help them weave those features into strategies across the buyer's journey.
What is a WhatsApp Business Solution Provider?
WhatsApp Business Solution Provider is a third-party solution provider. They enable you to communicate with your customers on WhatsApp at scale for approved use cases of customer support, timely & personalized notifications, set up a storefront, and integrate with various platforms & apps like Shopify, WooCommerce, Instamojo, Pabbly, and Facebook Ads, Return Prime, and more. 
A business solution provider can help businesses offer seamless shopping experiences to their customers in exchange for a subscription fee. 
As of today, there are a number of WhatsApp Business solution providers available. But how do you make sure you're choosing the right one?
After surveying hundreds of online businesses, we found ten concrete parameters on which you should be choosing a WhatsApp Business solution provider. ‍
Tips for Choosing Right WhatsApp Business Solution Provider
1. Wider integration options
You need something that has a greater scope of serving your purposes than you are allowed to, using WhatsApp alone. What you need to look for is a partner that provides more integration options from web-based GUI, API, On-Premise Solutions, etc.
Handling multiple systems uses up more resources and makes communication dissemination more difficult. This is why, for your business, integrating WhatsApp API with your existing systems like digital marketing tools becomes important. Hence you should be looking for WhatsApp Business solution providers that offer API on the cloud. And more importantly, you should look for applications that help in enabling your legacy application with very little coding needed.
At this stage, we also recommend probing if the WhatsApp solution provider is willing to build out custom integrations on demand.
2. Experienced with new-age technologies
Today marketers are able to provide effective and instant two-way communication for providing customer service and engaging their customers, with the help of new technologies like Artificial Intelligence, Natural Language Processing (NLA), Machine learning(ML) etc.
In a world where customer support has evolved to take the seat of being an important factor in successful marketing, such tools give an edge to businesses. Look for partners that will provide solutions like the chat widget & Ads that Click to WhatsApp you'd require to initiate conversations and a powerful CRM to manage the incoming queries in an efficient way across all departments; the idea is to get a complete solution for WhatsApp marketing campaigns. ‍
3. Automating business processes
WhatsApp has made it possible for businesses to access a myriad of features, respond to issues at scale, address requests, and other processes, and do all these in a convenient digital platform that everyone is comfortable using via powerful automation.
So your WhatsApp service provider should equip you with tools that help you automate a number of business processes on the conversational channel. Be it for lead generation, marketing purposes, driving sales, offering customer support, or other functions a good WhatsApp Business Provider would have everything automated. 
4. Templates for automated responses
Customers on WhatsApp, prefer responses that are personalized and instant. But scaling a live agents team to respond to the ever-increasing customer queries as you grow, can really eat into your resources and take the team away from handling crucial tasks that may require a more hands-on approach.
This is where a good WhatsApp Business solution provider comes in with ready-to-use templates. These templates can then be used in the automated process to respond to customers instantly, reducing the manual effort required by the team and at the same time, improving the customer experience delivered through the conversation.
5. Seamless live agent hand-off
Automated responses are great but not always. When the time comes nothing can be as effective as a hands-on human response. Some queries can be too complex for automated replies and a live agent is necessary to provide assistance in such cases.
So having a seamless live agent transfer functionality can help you tactically hand over customer interactions to live agents in situations where automation becomes pointless. With Interakt's auto-replies for FAQs, the customer thinks they are chatting with a human agent rather than a bot and have no idea when the live agent takes over the chat. 
A good WhatsApp Business solution provider will give you the ability to define your workflows and hand-off scenarios for efficient resolution. ‍
6. Trained consulting and guidance resources
The business solution provider you choose should have a solid skilled team of people with expertise in the WhatsApp Business Platform arena. 
Look for a WhatsApp Business solution provider who equips you with resources that you can learn from. From how-to guides, industry benchmark reports, case studies, and more, take a good look at what's available to you; but also make sure they're written out in a detailed, in-depth manner.
Interakt has a comprehensive library of how-to articles and videos along with real-life case studies, a complete academy for WhatsApp to help businesses understand the use cases and leverage the app in the best possible way. 
7. Round-the-clock support and monitoring
Be it the first stage of setting up your WhatsApp Business profile, or approving templated messages, you are bound to have issues.
Your WhatsApp business service provided should be capable of assisting, monitoring, and resolving these issues whenever needed with a reliable 24/7 availability. An inexperienced BSP won't be able to resolve critical issues that will definitely come up on your WhatsApp journey and this might cost your business dearly if left haphazardly.
To validate a provider's promise, go through the reviews and testimonials they have received from existing customers around their support.
8. Scalability and hosted infrastructure
In order to globally integrate with the WhatsApp Business Platform, businesses need to invest in infrastructure capable of doing this. And businesses get dissuaded from getting on board because of the responsibility of hosting, managing, and scaling infrastructure in more than one region while volumes increase.
Your partner should be able to provide a unique solution that is tailored to your company's needs while being flexible enough to handle spikes and scale as your business evolves and grows.
With automation, commerce, and support features, today Interakt is the only full-scale WhatsApp business solution provider for SMBs in the market. It provides businesses with a scalable infrastructure they need to grow without having to expand their human resources. 
9. Green tick verification
As of today WhatsApp reserves the right to give out the esteemed green tick to brands. However, you still need to apply and re-apply for it and a good WhatsApp solution provider will help you with it. 
Keep in mind that you do need to have a somewhat good digital and/or print media presence to get the much-acclaimed green tick on your WhatsApp profile next to your official business name.
A verified account enables a company to prove its brand's authenticity and integrate key branding elements into its WhatsApp conversations. 
If you are looking for a solution provider that easily meets the criteria for a good technology partner, you don't have to search anymore. Interakt is an all-in-one WhatsApp Business Solution Provider that provides you with all the necessary tools to grow, engage and sell better.
Interakt charges a nominal fee to give you access to its WhatsApp APIs and you've to pay a certain amount for business-customer interactions. Know all about it on Interakt Whatsapp Business API Pricing Page. 
What are the things to know before starting WhatsApp Business Marketing?
1. How much does WhatsApp Business API cost?
The WhatsApp Business API platform, unlike the WhatsApp Business app or the chat app, has something called conversation charges. Know how the WhatsApp Business API pricing works, at Interakt with a detailed breakdown.
2. What is BSP WhatsApp?
WhatsApp for Business Solution Provider (BSP) is a value-added service provider that enables businesses to leverage WhatsApp as a communication, marketing, sales & support channel. 
3. What is the best WhatsApp API provider?
Interakt is an all-in-one Official WhatsApp Business API Solution provider that brings together all the WhatsApp tools into a single platform. It lets you automate notifications, send bulk campaigns, share catalogs, monitor campaign analytics, and much more.