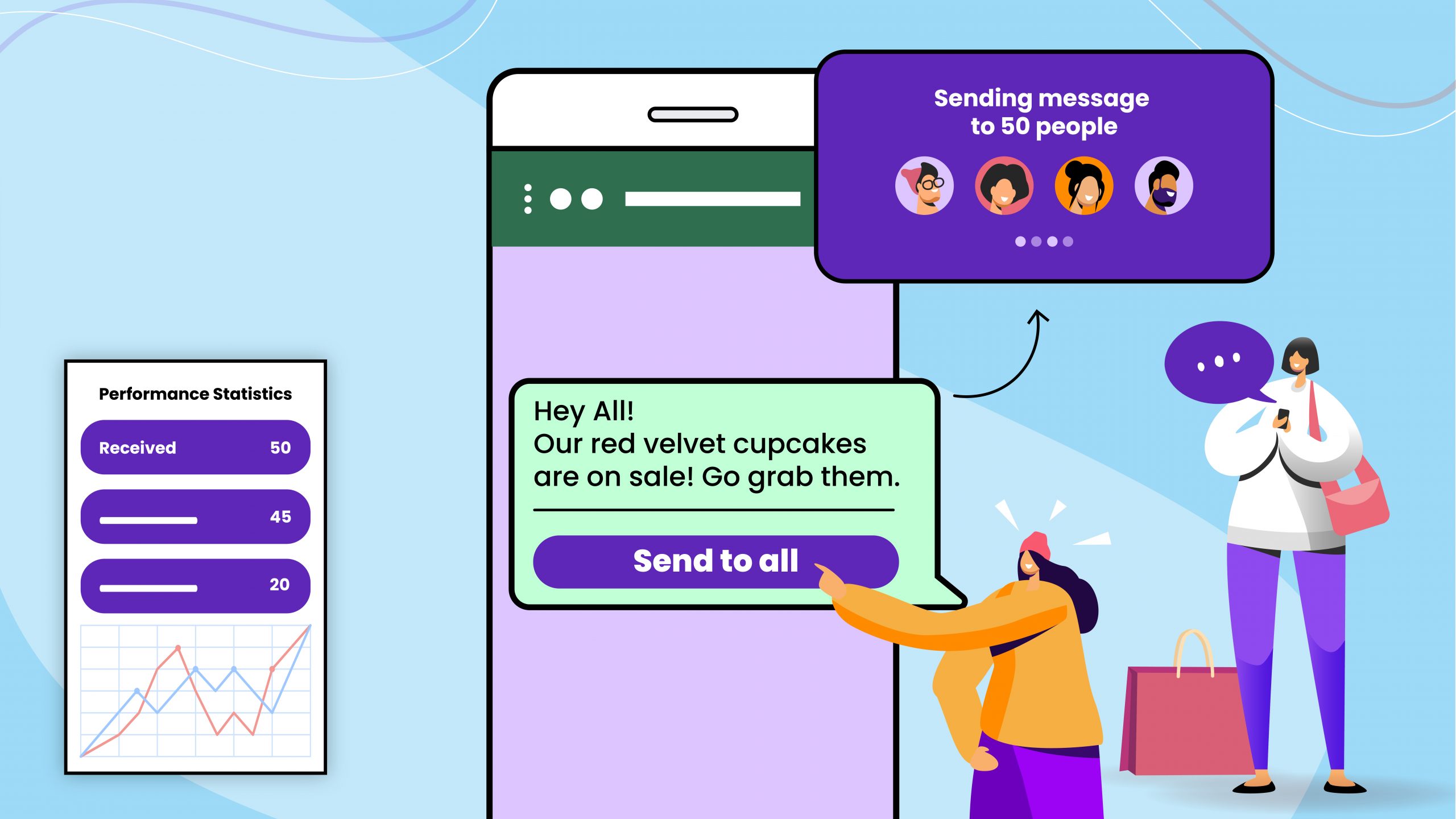 WhatsApp Bulk Messages: How to send WhatsApp Bulk messages for Effortless Customer Communication
One of the most talked-about features of WhatsApp Business API has been its ability to send bulk messages.
It can surely get overwhelming and sometimes almost impossible to send messages to all your users one by one on WhatsApp. Today, you might be using traditional WhatsApp bulk messaging methods like forwards, broadcast lists or even creating groups. These methods have their own constraints such as time taken and limit on the number of users you can reach out to.
Instead, now you can use bulk messages which are an effective means of communication.
What are WhatsApp Bulk Messages?
WhatsApp Bulk messages are an easy-to-use WhatsApp feature that can be sent to multiple people at the same time. It includes sharing videos, images, and a choice to use an unlimited number of characters to convey your message. The only limitation with the free version of WhatsApp is that just 256 recipients through a broadcast will receive your message, provided they have opted in to receive your messages, and for medium or large enterprises this isn't a viable option.
‍How to send WhatsApp bulk messages without adding a contact?
There are third-party apps that will let you send messages on WhatsApp. Narrowing down to a reliable bulk WhatsApp sender is the hard part as most of them are unofficial tools. We do not recommend using these Apps as it puts your smartphone at risk and can lead to a permanent ban of your WhatsApp business number.
WhatsApp is very strict with individuals or companies who send spam messages and who take to mass promotion of products and services as it becomes invasive and distressing to users of the App.
You can sign up on WhatsApp Business API by partnering with a WhatsApp Business Solutions Provider like Interakt. You can then connect with customers at a reasonable WhatsApp Business API pricing.
What are the benefits of sending WhatsApp bulk messages?
• This is the only official channel to send promotional messages.
• You can enable chatbots to send automated messages.
• Supports multi-agent teams who can log on to handle customer queries.
• Able to get Green Tick Verification.
• You can send out WhatsApp promotional message templates.
What are the limitations of sending WhatsApp bulk messages?
• WhatsApp API approval is necessary.
• WhatsApp Business templates have to be pre-approved by WhatsApp.
What is the list of requirements to send WhatsApp bulk messages?
In order to apply, you need to be ready with the below details:
a) A phone number that will be exclusive for use on WhatsApp Business API.
b) A business name to display.
c) The Business Manager ID which you will obtain on getting your business verified on Facebook.
Once you have these details in place, you can submit them to a WhatsApp Business Solution Provider such as Interakt who will help you with the onboarding process.
With Interakt, you can send bulk WhatsApp messages that are automated and personalized to anyone in your contact list.
Bulk messages can be sent out to as many contacts as you wish. There are no restrictions on the number of recipients who can receive your notifications. Even those who do not have your number saved can receive messages from you.
Interakt allows you to send out two kinds of WhatsApp Business notification campaigns–one-time and ongoing.
One-time campaigns are those campaigns where you send out a one-time broadcast message to users. E.g. details about an event your company is doing.
Ongoing campaigns are those where bulk messages are sent out based on the occurrence of a recurring event such as when a new user signs up or when a payment is received. For example: as soon as your customer places an order on your website, you may send him an Order Confirmation message using Ongoing campaigns.
As a business looking to improve its Whatsapp outreach to customers, it is important to understand how effective that outreach is. Hence, we show performance statistics related to every campaign. You can see on the official dashboard the number of users who received, read, replied, etc to your message,
Get WhatsApp Business API Access today
interakt's notifications engine was built to help you automate and send out personalized messages in bulk. So if you're looking to amplify your reach and find new ways to keep your customers engaged – wait no more.
Sign up today and get started for free with Interakt's 14-day free trial period.