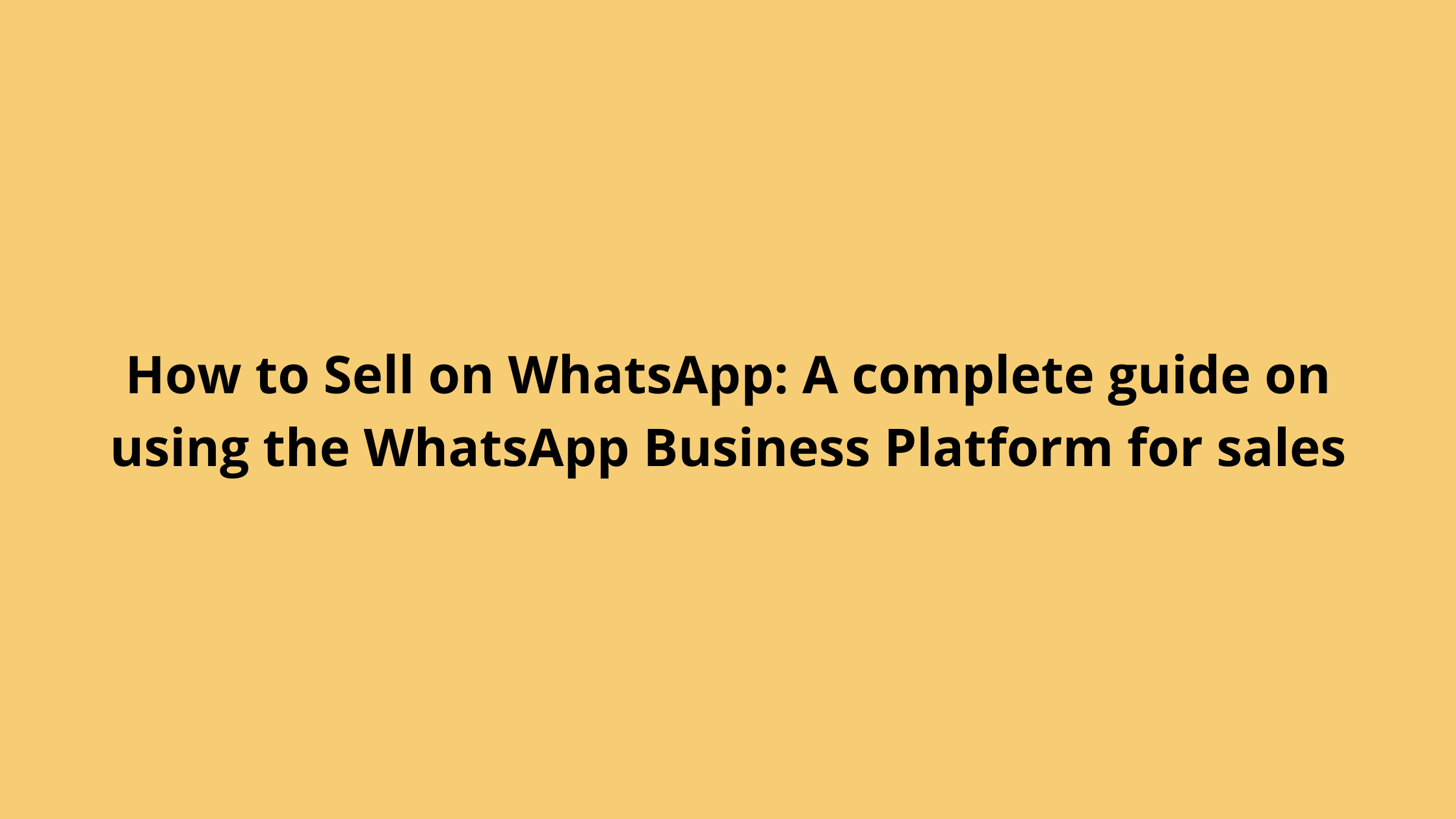 How to Sell on WhatsApp: A complete guide on using WhatsApp Business API for sales
With a total of over 2 billion active users checking their phones 15-20 times and exchanging an average of 100 billion messages each day, WhatsApp is the one channel you as an eCommerce business should not be missing out on.
But how do you grab the reins and start making this channel work for you to draw in more sales? Here's your guide to sell on WhatsApp.
‍How to sell on WhatsApp?
Here's a step by step guide to follow on how to start selling on WhatsApp.
‍Step 1: Create an Interakt Account
Instead of going the longer route, you can set up a WhatsApp Business account using Interakt. The solution provider uses the official WhatsApp Business API to open up a lot more tools to help you sell your product with ease. From creating a profile to uploading your catalog, you can do it all with one solution.
You can even set up campaigns for specific audiences, send out catalogues as part of these campaigns and create shared inboxes for your team, while tracking team response and resolution time.  ‍
Note: Typically businesses create an account on the WhatsApp Business app and then start looking for solution providers to help them get started with campaigns. This increases the number of steps you need to take to start selling on WhatsApp. 
‍Step 2: Advertise your WhatsApp Business presence
Now, you have to put your business out there in the open and attract buyers. As no one can search and locate your eCommerce store in WhatsApp by the business name, you will have to make sure customers can access your phone number so they can reach you and your business.
For this, advertise vigorously, both online and offline. Use your store's Instagram, Twitter and Facebook accounts to make your presence on WhatsApp known. Use these platforms to promote your WhatsApp business store and provide customers with a way to contact you. Also provide a link on your website for audiences to reach you on WhatsApp.
‍Step 3: Automate Business Notifications
Interakt has a powerful Notification Engine that allows you to send in automated business notifications with interactive elements like Quick Reply Buttons and CTAs. Inform customers about new product catalogs, new stocks etc. with clever notifications.
With WhatsApp Business Notifications you can keep customers engaged throughout a purchase journey and send customized as well as personalized automated messages to notify a customer about an order, or remind them of pending purchases.‍
Step 4: Create and Send Broadcast Campaigns
Reaching out to your customers or potential buyers with campaigns and broadcasts can help boost brand recall and boost your sales. Based on occasions and customer attributes you can create one-time or recurring campaigns with specific audiences in mind.
Notify customers with messages that inform about discounts and offers, new stock or back in stock alerts, new products etc.
You can improve your campaign performance with interactive message elements like CTAs and Quick Reply buttons, videos, images and similar. You can even send Catalog Messages that can include up to 30 items from your business inventory to let a recipient choose from.
Campaigns and Broadcasts are a great way to make your presence on WhatsApp known to your customers. ‍
Step 5: Set up Smart Automations
With Interakt, promote and sell on WhatsApp, using the various tools and automate your business marketing. Some of the campaigns you can set up to make the most of the channel, include:
• Recover abandoned carts
• Give discounts and offers, notified through automated messages
• Alert about "back in stock" products
• Update customers on their Orders and Shipment details
• Authenticate and confirm Cash On Delivery orders
The idea is to keep the conversation going with customers throughout their purchase journey, without having to manually set up campaigns to reach out to them. ‍
Step 6: Measure and Optimize
It is important that you are aware of how like other channels, WhatsApp is performing for you in terms of growing your business.
You can monitor your campaign performance statistics like the number of messages sent, delivered, seen and replied to. Furthermore, you can also take a look at the conversions these campaigns are bringing in. Use these statistics to plan, optimize and improve your campaign strategies for better results.‍
Don't wait any longer to start selling via WhatsApp API
Opening and growing your DTC venture on WhatsApp is much easier now with the WhatsApp Business API and platforms like Interakt. While other businesses are still exploring the channel for marketing and sales purposes, it's time for you to get started and zoom ahead!