Shared Team Inbox: Layout & Features
Interakt's WhatsApp CRM helps you and your team to support your customers through a collaborative team inbox with a single WhatsApp Business Number. It is a consolidated inbox for all your customer conversations, where you can:
1. Assign or reassign chats to your team members.
2. Add labels to chats and search them using filters.
3. Store all your customer details in the form of smart cards
4. Add notes for internal communications, tags for grouping chats under each tag.
5. Have a 360 degree view of your customers' conversation & order history.
Moreover, Interakt's WhatsApp CRM feature enables you and your team to access, create, and send personalized WhatsApp messages with rich media, quick replies and CTA buttons while having complete insights of your customer support metrics.
‍In this module, we'll help you understand the layout of Interakt's WhatsApp CRM i.e. Shared Team Inbox.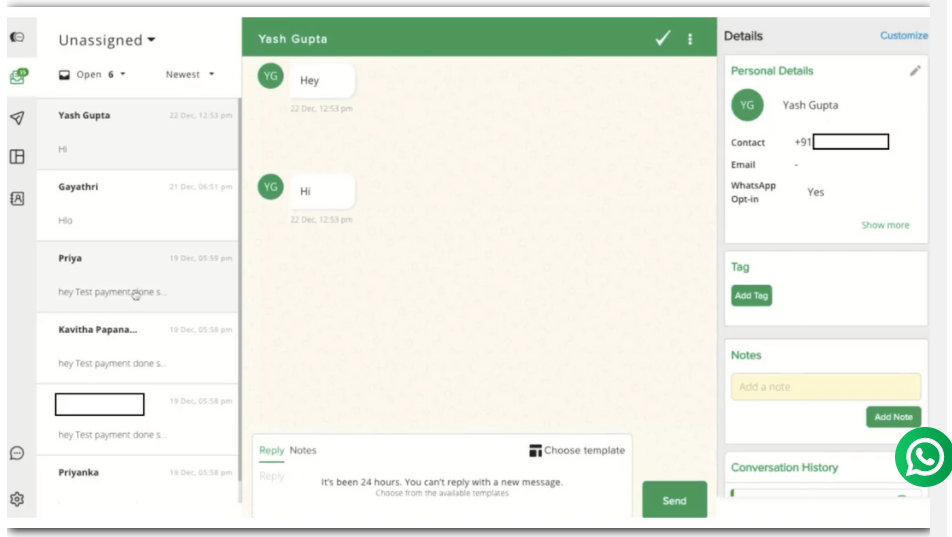 Interakt's Shared Team Inbox for WhatsApp Business has been built to help you and your team connect easily with your users on WhatsApp.
You can not only send and receive messages, but you can do all that while having full context about the user.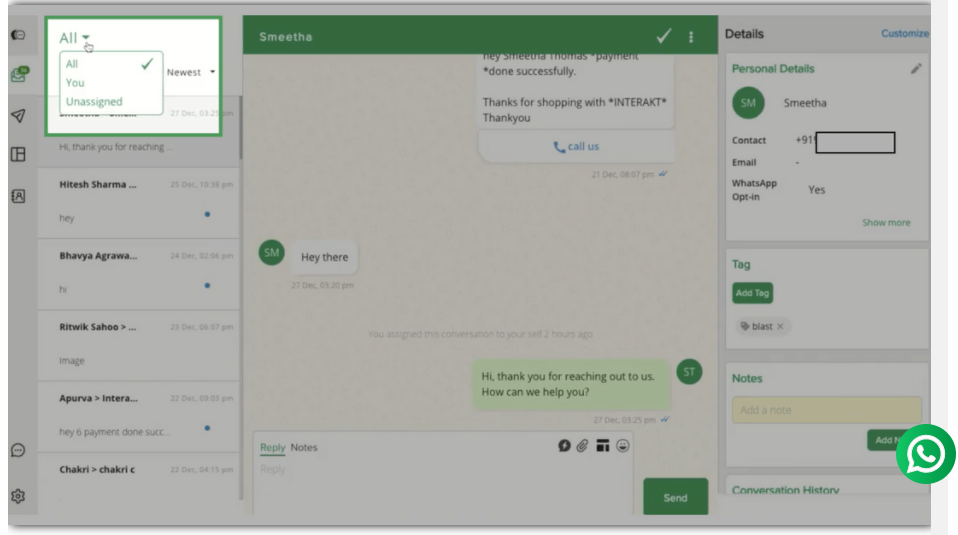 Interakt's inbox has essentially three higher level views, i.e. Unassigned, You and All.
– Unassigned: Shows the chats in your organization that no one has looked into yet.
– You: Shows you your personal view of the inbox, i.e. chats that you are currently replying to.
– All:  Shows you all the conversations across your team.
You also have two subsections under each view –  i.e. 'Open' and 'Closed'.
These sections are here to help you split up the chats that you are actively looking into from the ones that you are not.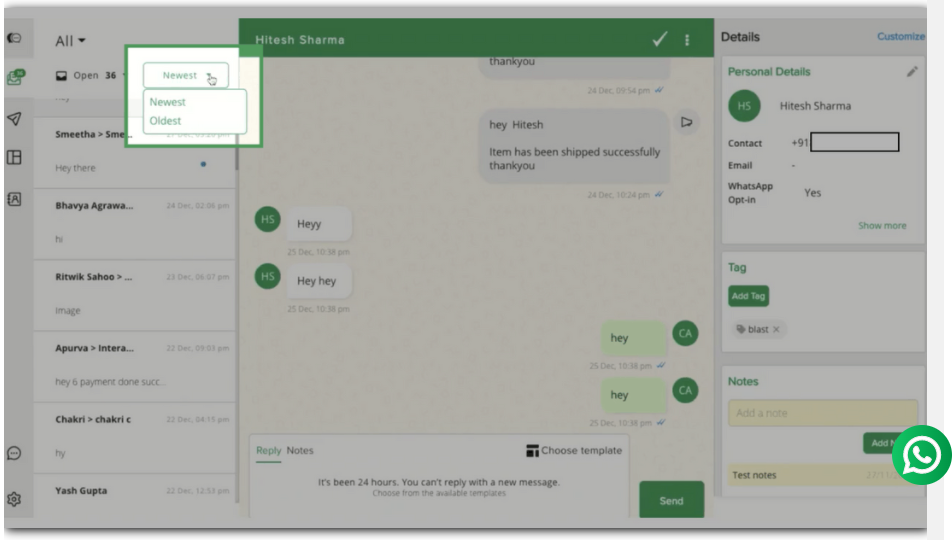 You can also sort the chats from Oldest on top to Newest on top.
By default all the chats in the inbox are stacked from the newest to the oldest but you can choose to toggle between the two as you prefer.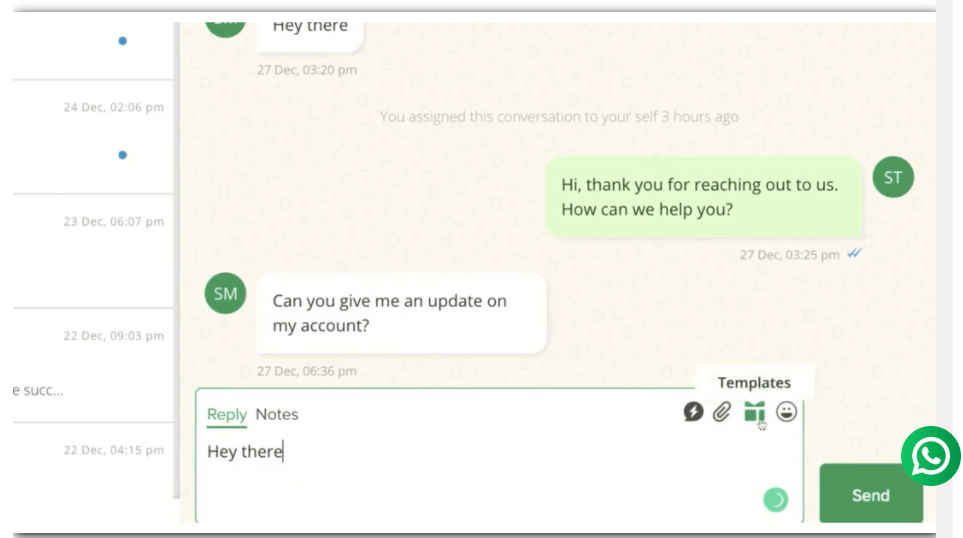 In the center portion of the inbox is the chat & composer section. You can type out the message that you want to send to your user here and then hit send.
The user will then see your message on their WhatsApp Chat screen. You can send regular text messages or you can share media like images, videos and documents. The media file size will be the same as what WhatsApp supports.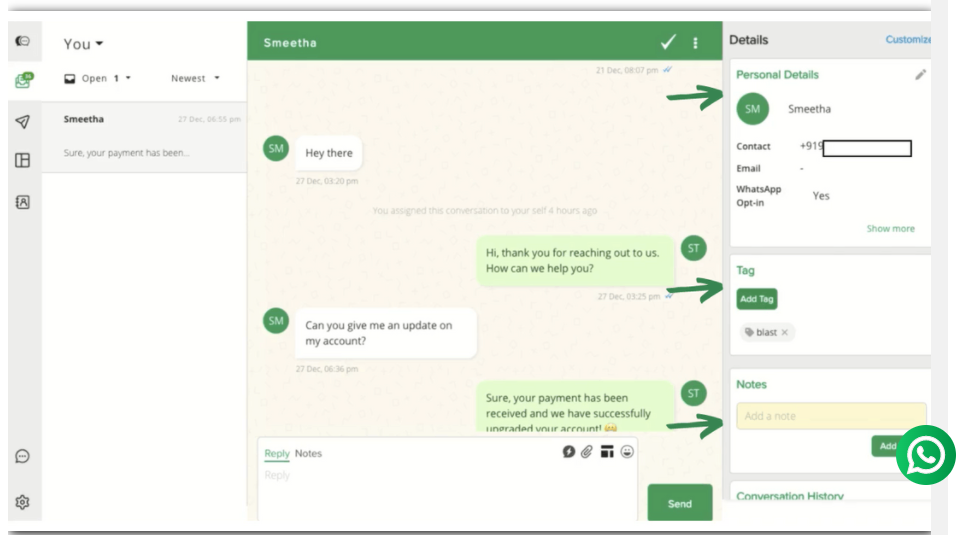 On the right-hand side of the inbox, you have a set of Smart Cards. These Cards not only give you a lot of information about the user at one glance, but also records user information based on your conversations.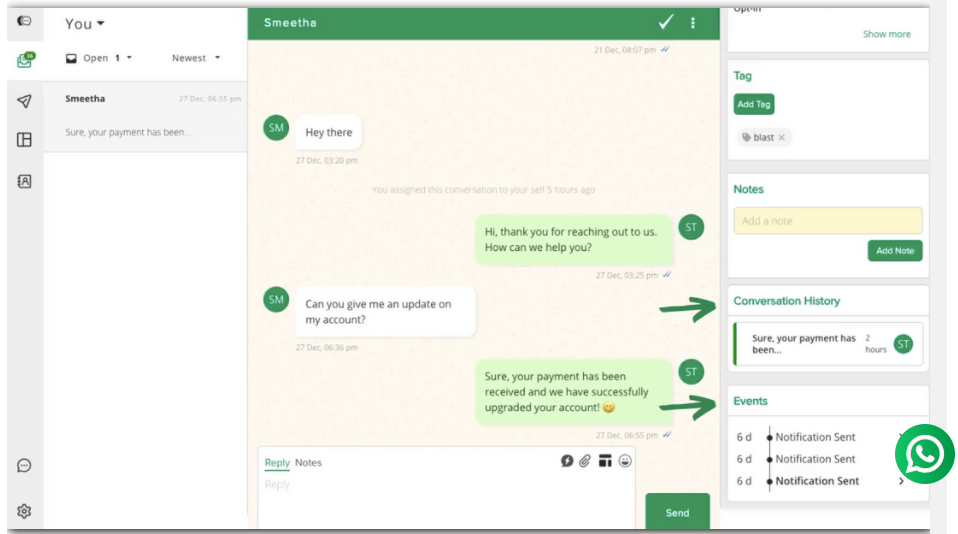 – Personal Details Card: Whenever a user sends you a message, Interakt captures their name that's given on WhatsApp along with their phone number and any other parameters that you define automatically and displays it on this card.
– Tag: You can use this card to define and add relevant tags to classify your users.
– Notes: In the Notes Card, you can create and view notes specific to the user.
– Conversation History Card: This card gives you an overview of all the previous chats with the user.‍
– Events: With the help of API integration you can define and capture web and app events of your users which will then be shown in the Events Card.